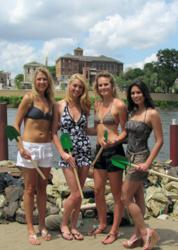 More people really want to do the right thing, and were willing to put their muscles behind our cleanup. Reducing our Carbon footprint in the riverbed was extremely rewarding to everyone who participated.
(PRWEB) June 09, 2011
During a beautiful sunny Saturday, over 100 Eco Swim employees and their families traded their aprons, tongs, and hot dogs for gloves, litter, and trash bags for a Delaware River cleanup.
The cleanup began at the Eco Swim Factory in Easton, PA, where employees learned how one piece of trash on the banks of the Delaware will eventually end up in the oceans, damaging important eco-systems. Following the education, a mass of organic t-shirt wearing employees took to the banks of the Delaware River in Phillipsburg, NJ where they removed a staggering amount of trash.
This was their first cleanup of the summer and this record-breaking cleanup went swimmingly. Eco Swim employees hauled 2,561 pounds of trash from the banks.
Eco Swim's planet-friendly swimwear is made in the US, right in the heart of the Lehigh Valley by a 4th generation family run business, A&H Sportswear. The swimsuits are all made from recycled materials, including plastic bottles and carpet liner. The company is in the top 1% for sustainability by a leading global retailer and has many other innovative environmental accomplishments.
Eco Swim does not just stop at using recycled products and sustainable practices; they are dedicated to reducing their carbon footprint in the sand by protecting our oceans and waterways. In addition to the Delaware River Cleanup; they are conducting another cleanup at Neshaminy State Park on June 18th and two beach cleanups later in the summer. For more information, visit http://www.ecoswim.com.
Eco Swim products can be found in better specialty and department stores, as well as on select websites.
###