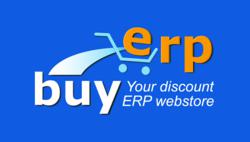 Las Vegas, NV (PRWEB) June 10, 2011
BuyERP is a Microsoft Gold Certified Partner offering discounts on Microsoft Dynamics GP, Microsoft Dynamics NAV and Microsoft Dynamics CRM products. BuyERP will provide potential customers with a simple way to decide if Microsoft Dynamics GP (formerly Great Plains), Microsoft Dynamics NAV and Dynamics CRM systems are within their budget. BuyERP is a user-friendly website which allows the client to easily fill their cart, print a professional quote and checkout in minutes.
Purchasing ERP or CRM products on BuyERP.com is simple. The site is innovative and built utilizing the power of the Magento shopping cart solution, allowing the shopping process to be quick and painless. A good example of this is all of BuyERP's available products can be filtered in a number of different ways:

product (Dynamics GP, Dynamics NAV or Dynamics CRM);
product line (Business Essentials, Advanced Management or A La Carte);
the category the product falls into (Foundation Pack, Human Resources, Users, Payroll, Financial Management, Tools etc…).
There is also a search option displayed on every page - a quick and easy tool to bring up specific products you are interested in. There is an abundance of information on the site from whitepapers to hardware requirements organized with simple navigation.
The checkout process is straightforward and has a number of features not found on other sites. During the checkout process, users are able to select the appropriate maintenance option based on individual preference. Microsoft requires users to purchase maintenance plans with their software. A link to papers on maintenance plan information is available directly from this screen if customers are unsure of their options.
Another feature to assist users in their buying decision is during the checkout process, the BuyERP site has the ability to print a professional looking quote. "We completed a lot of testing prior to launching this site and decided customers needed to be able to print a quote to present to others in the organization, rather than just a printout of the cart in its current format," explains BuyERP's President. "The Quote Printing Option on the BuyERP site provides an accurate, up to the minute quote, with excellent discounts, for prospective customers to determine if BuyERP's prices are competitive with others." No payment information is necessary to print out a quote and the process can be repeated and adjusted as many times as needed.
When the customer is ready to place an order on BuyERP's website, there are three easy steps to purchasing your new software. After an order is placed and payment is received, it takes approximately 24 to 48 hours to process the order. Most orders are downloaded electronically directly to the customer.
The BuyERP site, which provides pricing, is available to customers 24 hours a day, 365 days a year for customers to obtain pricing, print a quote and purchase software. While BuyERP serves primarily customers who don't have access to a Microsoft Partner, BuyERP is authorized and welcomes sales from anywhere in the United States and worldwide. All prices on the BuyERP site are in US dollars. Currently, International customers need to contact BuyERP directly for a customized quote for their particular country. All current Microsoft promotions are also posted on the site.
About BuyERP
Headquartered in Las Vegas, BuyERP is the first ecommerce site to allow customers to purchase world class, on-premise Microsoft Dynamics ERP software in minutes - at a very competitive price. BuyERP is currently offering Microsoft Dynamics GP, Microsoft Dynamics NAV, Microsoft Dynamics CRM and various Independent Software Vendor (ISV) products. During these tough economic times, ERP software is more important than ever. Since we know there is value to software, we have found a way to offer it to you at price you can afford.
In addition to providing you Microsoft Dynamics and Independent Software Vendors (ISV) software at a very competitive price, our goal is to also provide you with resources for implementation services and ongoing support. Visit our Partners page to find a Microsoft Dynamics partner who specializes in the products you have purchased. If you are an implementation partner, please visit our Partners page to sign up with us.
Email: sales(at)buyerp(dot)com or info(at)buyerp(dot)com
Phone: 888-377-3955
# # #