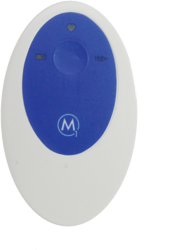 Thornton, CO (PRWEB) June 09, 2011
SleepImage™ is a new, very low cost sleep quality screening tool that not only identifies patients with poor sleep quality but also helps identify and categorize the type of sleep disorder a patient may have by displaying an "Image of Sleep" called a Spectrogram. This unique product can also predict those who will benefit from conventional PAP therapy with over 90% accuracy – a critical component in determining the appropriate sleep therapy.
This simple tool consists of a tiny sleep recorder called the M1™ and a secure website that is used to upload sleep data to the physician from any PC. The M1 automatically starts recording when placed on a patient, making setup simple and error free. The recorder weighs less than an ounce and is virtually undetected when worn, even by children.
Once the data is uploaded to the secure SleepImage website, physicians can log in from any PC to view test results. Information such as Actigraphy, Body Position, Snore, Sleep Quality, and Sleep Time is displayed in easy to interpret graphs and reports. This information can also be trended over multiple recordings in order to evaluate the impact that PAP therapy, medications or lifestyle changes may have on sleep quality. A Sleep Quality Index is also displayed, which offers an at-a-glance indication of good or bad sleep quality for adult and pediatric patients.
SleepImage is ideal for screening large, at risk populations such as: Diabetic and Obese patients, perioperative patients, and current PAP users to assess benefit of therapy. SleepImage is also the perfect tool for pharmaceutical research and driving patients to the sleep lab.
About Embla Systems, LLC:
Embla is a global leader in sleep diagnostics based in Thornton, CO and the proud exclusive distributor of the SleepImage system. For more information about SleepImage please contact Terry Murphy, Vice President of SleepImage.
SleepImage is currently available in the US only.
###