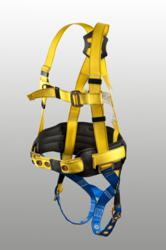 Adding harnesses to our line of fall protection solutions is another step in making it easy for Rigid Lifelines™ dealers to provide turnkey fall protection solutions to end-users
Morgantown, Pennsylvania (PRWEB) June 13, 2011
Rigid Lifelines™, an international provider of rigid overhead fall arrest and fall restraint systems and accessories, announced a new line of fall protection harnesses today. This new line of ANSI rated harnesses comes in several models that are now available for purchase through the Rigid Lifelines™ dealer network.
"Adding harnesses to our line of fall protection solutions is another step in making it easy for Rigid Lifelines™ dealers to provide turnkey fall protection solutions to end-users," says Steve Uhlig, Rigid Lifelines™ vice president. "While our dealers will still be able to carry their own lines of harnesses for sale, the Rigid Lifelines™ harnesses provide a rock solid option when a dealer doesn't carry a line."
The Rigid Lifelines™ new line of harnesses is being rolled out with three models, including a Standard Universal and Universal-XL, as well as a Universal Deluxe model. The Standard Universal and Deluxe models accommodate workers with weights up to 310 LBs, while the Universal-XL accommodates workers up to 400 LBs. The Deluxe model incorporates padding for added back support and comfort for workers who must wear a harness for a long period of time. During the early summer months of 2011, the line will be expanded further to include a universal model specifically engineered for female workers, and a welding harness for harsh work environments.
About Rigid Lifelines™
Rigid Lifelines™, a division of the industry leading material handling company, Spanco, Inc., engineers and manufactures overhead fall protection systems that utilize enclosed steel and aluminum track with a rolling trolley. Their unique brand of fall protection provides a ground breaking alternative to cable fall protection systems, and provides decreased fall distance through its rigid design that eliminates deflection during a fall event. Rigid Lifelines™ has designed and installed over 2000 fall protection systems in the field, and has locations in Morgantown, Pennsylvania, and Las Vegas, Nevada.
# # #