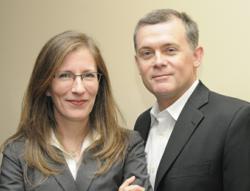 We will always try to provide readers with actionable takeaways on how to adapt to, shape and thrive within their work environments.
Lebanon, NJ (PRWEB) June 13, 2011
Transformation Associates, Inc. (http://www.TransAssoc.com) announced the release of its new online magazine, Organizational Realities. This periodic online publication will focus on common issues and concerns for people at work, offering a psychologist's perspective on dealing with them. Although the topics are serious, the authors often convey their insights in a light-hearted way, using their own challenges and shortcomings as examples.
Paul Gillard, PhD, President of Transformation Associates stated, "Having spent over twenty years in the corporate world, we have encountered many challenges along the way, so we decided it was time we chronicled our musings, observations and experiences". The charismatic executive further explained that the overall aim of the venture is to share recommendations for addressing the "organizational realities" everyone encounters and struggles with at work at one time or another. Gillard and co-creator, Rachel Radwinsky, PhD, VP of Consulting Services at TA, claim that their aim is to do this in an "edutaining" and at times irreverent manner where the academic and esoteric are minimized and the pragmatic and relevant emphasized. See the company's registration page for subscription information.
Gillard and Radwinsky, both workplace thought leaders who consult with corporate leadership teams and whose background is in organizational psychology, contend that there are ways to deal with the difficult work-related issues that many would rather avoid. Sometimes it just requires looking at the issue from a few different angles and trying new tactics.
As an example, in the first issue, they dealt with the topic of micromanagement. They highlighted the obvious problems with over-managing capable professionals, and offered valuable advice for those looking to improve their work situations. However, they also presented another perspective - that of the "micromanager". Here, they touched on the reality that some claims of micromanagement are false. They explored how some employees may perceive being "aggressively managed" either because they are not performing at an acceptable level, or because either consciously or unconsciously, they resist being managed. In addition to providing useful advice for the truly micro-managed, the authors encourage employees to take an objective look at their own potential contributions to the problem as well.
Dr. Gillard and Dr. Radwinsky may not always see eye-to-eye, and with all their topics they will be unafraid of taking the unpopular perspective, if that is the one they believe to be right. However they do believe Organizational Realities will help managers and employees think about their issues in a different way. Radwinsky summarized, "While there is no doubt we will disagree on some (if not all) topics, and our guest contributors will bring still different perspectives, we will always try to provide readers with actionable takeaways on how to adapt to, shape and thrive within their work environments".
About Transformation Associates
Transformation Associates partners with motivated business leaders to envision, plan and drive the changes necessary to transform underperforming or ill-defined core business processes and functions into highly efficient operations. Their consulting team is comprised of successful leaders with extensive management, consulting and technology experience and a strong bias for delivering valid, pragmatic business solutions. Additional information about TA can be found on their website.
###