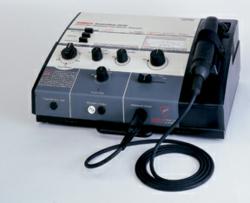 By combining an intuitive website with the knowledge base of our sales staff, we can offer specialized service to customers nationwide
Salt Lake City, UT (PRWEB) June 09, 2011
First Medical Products announces the launch of their new website to provide high-end clinical therapy equipment to a nationwide market.
First Medical Products has historically focused on providing ultrasound therapy machines and electrical stimulation units to hospitals and clinics to the Salt Lake City area. "First Medical Products has an extensive knowledge of these machines so we are really able to help our customers find the right equipment for their clinics," said Matthew Prestwich, Marketing Director of First Medical Products.
With the launch of their website, First Medical Products plans to offer this specialized expertise to hospitals and clinics all over the United States. "We looked at our competitors and found that it was very difficult to find useful information on their websites," said Prestwich. "Their customer service agents have little working knowledge of their products," continued Prestwich. "By combing an intuitive website with the knowledge base of our sales staff, we feel like we can offer clinics nationwide the same level of product knowledge and excellent customer service that we offer to our local customers," finished Prestwich.
In addition to therapy equipment, First Medical Products carries a full line of medical products including exercise and therapy products, medical monitoring equipment, and special needs equipment. First Medical Products was started in 2008 with a mission to provide specialized product knowledge and excellent customer service to clinics and hospitals.
###