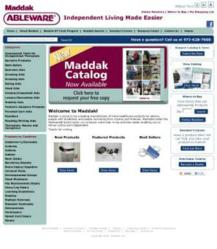 Our products make the daily tasks of independent living easier, so, naturally, we want our website to be easy to use and our products easy to find.
Pequannock, NJ (PRWEB) June 16, 2011
With over 400 Ableware® self help products the new Maddak website, http://www.maddak.com, is a complete ADL (aids for daily living) resource for HME distributors, healthcare professionals and end users. Now, with their newly redesigned site Maddak has made it easier than ever to choose the best product to meet specific needs. All products have been organized by function as well as condition/ailment.
"Need a product to assist with dressing, simply click on the dressing category. Limited by a back injury? Click on that category and you will be shown a variety of products that can help improve daily life," explains Susan Tulanowski, Marketing Manager for Maddak. "Creating clean, visually inviting pages, with complete specifications, links to instruction sheets, warranty information and all the other details you want to know about a product was also a priority in building the online catalog," added Tulanowski.
Maddak does not sell direct to the end user, preferring to leave that 'to our professional retail partners,' but other user friendly additions include a Retail Locator, On-line Supplier Listing and a Shopping List builder. Tulanowski tells us "Our products make the daily tasks of independent living easier, so, naturally, we want our website to be easy to use and our products easy to find. The Retail Locator allows users to enter their zip code to find a retailer in their area and the Shopping List tool allows them to create a shopping list that can be saved and used as a reference at other sites or retail stores."
Dedicated to promoting independent living and quality of life, other amenities of the Maddak website include a resource page that provides links to other helpful sites including national healthcare organizations and publications, a Share tool that allows pages to be shared quickly with one's social network and a Rate/Review tool on product pages that allows visitors to rate products and read reviews from others. Inventors and designers can learn more about submitting product ideas through the Inventor's Corner, and professionals can get information on Maddak's OT Circle™ Program (a networking partnership linking the company with occupational therapists) and the Maddak Awards (an annual competition open to professional therapists and students to reward and encourage innovative and adaptive thinking in creating one of a kind products).
For more information on Maddak Inc., the Ableware® line of aids for daily living and the new website visit us at http://www.maddak.com, or contact the Maddak customer service department at 800-443-4926 or email custservice(at)maddak(dot)com.
About Maddak
Maddak Inc. manufactures products that simplify the tasks of daily living – eating, drinking, dressing, grooming, bathing, toileting, etc. – for seniors, people with disabilities and people undergoing rehabilitation. The company mission is to provide quality products that enable people to maximize their independence and remain active despite any limitations they may face. Marketed under the Ableware® brand name, the Maddak product line includes over 400 products sold through medical and hospital supply centers, pharmacies, homecare centers, mail order catalogs and internet outlets. Established in 1971, Maddak Inc., headquartered in Pequannock, NJ is the largest U.S. manufacturer of assistive devices, clinical modalities, home healthcare and rehabilitation products. View our complete product line at http://www.maddak.com.
###