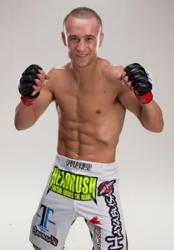 It's a huge honor to be on the XYIENCE team, especially since Wanderlei Silva has been one of my heroes in MMA for as long as I can remember.
Las Vegas, NV (PRWEB) June 09, 2011
XYIENCE, maker of Xenergy, the official energy drink of the UFC, has added Canadian mixed martial arts (MMA) fighters Mark Hominick and Sam Stout to its team of athlete ambassadors. Both athletes fight in the UFC and will be a part of Team XYIENCE through 2012. XYIENCE has experienced rapid growth in the Canadian market, and Ontario-based Hominick and Stout will play a key role in further strengthening the brand's position in Canada and the United States.
The endorsement deal includes personal appearances by both Hominick and Stout at key MMA and beverage trade events. In addition, both athletes will have a presence on the brand's website, in its advertising campaign and will be also incorporated into retail level promotions, especially in Canada. "XYIENCE has captured a good chunk of the energy drink market in Canada, so we're thrilled to have Canadian representation on the team," explains Gus Prokos, XYIENCE's vice president of sales in Canada. "Mark and Sam are well respected athletes with bright futures in the sport of MMA. What a thrill for XYIENCE to be able to showcase their talents to the entire North American market."
Mark Hominick (20-9) is an acclaimed Canadian mixed martial artist known for his exceptional skills in kickboxing and Muay Thai. A professional athlete since 2002, the 28-year-old (nicknamed "The Machine") fights in the UFC's featherweight division. He grew up training in martial arts and now points to his current job title of UFC fighter as one of his greatest achievements. Along the way, Hominick has held a number of prestigious MMA titles including TKO Featherweight Champion, ISKA Canadian Super Welterweight Kickboxing Champion and IKF North American Super Welterweight Champion.
Currently, Hominick is training under Shawn Tompkins at Adrenaline Training Center in London, Ontario, a gym he owns with XYIENCE teammate and fellow UFC fighter Sam Stout. Hominick, who holds a Bachelor's in Business Administration from University of Windsor, currently resides in Thamesford, Ontario with his wife and their young daughter.
Sam Stout (16-6) fights in the UFC's lightweight division, and he first established himself in MMA with his powerful and precise striking ability. Nicknamed "Hands of Stone", the London, Ontario native debuted in the UFC in 2006 at UFC 58 where he faced Spencer Fisher and won the split-decision. Other UFC career highlights include defeating top fighters like Matt Wiman and Joe Lauzon.
The 27-year-old has been practicing MMA since the age of 16. He also trains at Adrenaline Training Center with his teammate and business partner Hominick and is coached by Shawn Tompkins (who also happens to be Stout's brother-in-law). On his path to becoming a UFC fighter, Stout has racked up titles including IKF North American Welterweight Kickboxing Champion, Canadian Lightweight Muay Thai champion and North American Muay Thai champion.
"It's a huge honor to be on the XYIENCE team, especially since Wanderlei Silva has been one of my heroes in MMA for as long as I can remember," says Hominick. "This is a perfect relationship for both Mark and I," adds Stout. "As fighters doing double duty as gym owners, we appreciate how XYIENCE has shown a great commitment to its team of athletes. Juggling the gym and our careers isn't an easy job, so having a partner like XYIENCE who understands our sport and our goals so intimately is a huge plus," he says.
Stout is slated to fight Yves Edwards on June 11, 2011 at UFC 131® Dos Santos vs. Carwin. The event is being held at Rogers Arena in Vancouver, British Columbia. Also on the card are XYIENCE team athletes Mark Munoz and Krzysztof Soszynski.
About XYIENCE (pronounced zy-ince)
Headquartered in Las Vegas, XYIENCE products support an active and healthy lifestyle and are held to the most stringent standards of excellence. Visit http://www.xyience.com for details.
Xenergy (pronounced zen-ergy)
Xenergy is the official energy drink of the Ultimate Fighting Championship (UFC) and is one of the fastest growing brands in its category. The first energy drink created by a nutrition company, Xenergy is a sugar- and calorie-free drink that's fortified with vitamins. All-natural flavors provide a consistent supply of energy, without the "crash" inherent in most other energy drink brands. Xenergy Premium flavors include Cherry Lime, Cran Razz, Mango Guava and Blu Pom. Xenergy Xtreme flavors include Fruit Punch, Orange Fuel, Citrus Slam, and Cherry Rush. Xenergy is available throughout the United States and Canada.
###