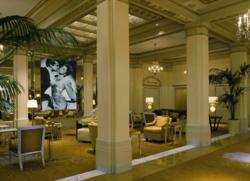 Portland, OR (PRWEB) June 13, 2011
Hotel deLuxe introduces its new spring NamaStay package provides an opportunity for goodness all around with elegant accommodations, $50 gift certificate to Yoga Pearl – Portland's premiere yoga studio for any class your body and soul desire, a Lululemon® water bottle, $25 room service credit and a copy of the best-selling book Poser: My Life in Twenty-Three Yoga Poses by Claire Dederer, and of course, unlimited in-and-out valet parking.
This Portland, OR, hotel loves its Zen-like atmosphere and city, and hopes that its guests also take advantage of all there is to offer.
Package rates start at $239 and can be booked via the Web at http://www.hoteldeluxeportland.com/portland-hotel-specials/ or via phone at (866) 986-8085.
The Hotel deLuxe made a name for itself locally, regionally and nationally with its Hollywood-film inspired design. With more than 350 black and white photographs from the Golden Era of Hollywood and an elegant Art Moderne design as a backdrop, the hotel has become a popular home to business and leisure travelers alike. The small, private hotel is elegant and cosmopolitan, yet friendly and unpretentious, and has been a Condé Nast Traveler Gold List hotel for three years running.
The Hotel deLuxe is known for its close proximity to the Pearl District and the downtown core, as well as its reputation for the highest customer service and its focus on Hollywood film, elegant design and luxury.
About Hotel deLuxe
Like its sister hotel in Portland, Ore., the Hotel Lucia (Condé Nast Traveler's Top 100 Hotels in the World) and its brother hotel in Seattle, Wash., the Hotel Max (http://www.hotelmaxseattle.com), the Hotel deLuxe (http://www.hoteldeluxe.com) is unique in Portland with its film-inspired design and magnified focus on personal guest services – boasting three years running on Condé Nast Traveler's Gold List.
###