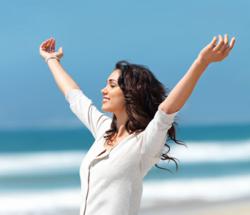 (PRWEB) June 08, 2011
Anyone familiar with television and beautiful women undoubtedly knows of Suzanne Somers. Suzanne Somers has led a life-long journey in the pursuit of optimal health, fitness and nutrition. MyReviewsNow is excited to share an affiliate relationship with Suzanne's website "Sexy Forever: How To Fight Fat After Forty." Throughout the years Suzanne has shared her natural health philosophies with many women across the country and has created special equipment and nutritional programs designed for women in aid of their quest for the highest level of fitness and beauty.
Now, with her new online boutique, Suzanne Somers has expanded her beauty enterprise incorporating many of her successful products along with with an array of new fitness and beauty aids which she has utilized to give her the ageless beauty that all women work so hard to achieve. Ms Somers, now in her 60's, embodies grace, elegance, and beauty where ever she travels. Simply put, the name Suzanne Somers is synonymous with the concept of beauty within any realm of thinking.
To get a true feeling of what the site offers, one must visit Suzanne's Online Boutique to find products that fit the needs of various women. No matter the concern: weight, skin care, muscle toning, or overall beauty, Suzanne's boutique offers every woman a beauty resource that is beneficial. If weight is a concern, the boutique offers an entire section of weight loss supplements and cardio / muscle tools such as the "EZ Gym" and the "Torso Track 2" which are designed to burn fat effectively. Also, the highly selling "ThighMaster Gold", an icon in the fitness and toning world is a mainstay that continues its popularity worldwide. Further, the boutique offers nutritional and supplemental items for controlling calories and carbs while satisfying the sweet tooth.
The beauty department of the boutique offers many skin care related products including moisturizers, cosmetics, and teeth whitening products. Finally, the Somers' beauty boutique is introducing the "Face Master Toning System." The Face Master system is an electro-stimulating device used to effectively treat lines, wrinkles and strengthen facial muscles. The Face Master is a compact device that can be used within the privacy of the home, and further, eliminates the need for continual and sometimes expensive spa facial treatments. Visual user reviews for the Face Master are available on the website for consumers who wish to view the effectiveness of the Face Master Toning System.
Finally, the book and media department offers many of Suzanne's well known books on beauty, weight, loss and fitness, and currently Suzanne's latest book "KnockOut: Interviews With Doctors Who Are Curing Cancer, And How To Prevent Getting It In The First Place" is being offered at $25.99, signed by Suzanne Somer for a limited time.
MyReviewsNow encourages anyone familiar with Suzanne's life journey and many successes to visit her boutique today and spend time viewing the fine products and services that Suzanne Somers wishes to share with both fans as well as those who wish to improve their quality of life.
Visit Suzanne Somer's Sexy Forever Today!
###