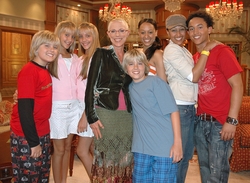 Hollywood's Top Tween Executive TV Producer, Irene Dreayer, will be conducting a series of Master Classes, June 25 and June 26 in San Antonio on her Top 10 Audition Rules for Success
Beverly Hills, CA (PRWEB) June 09, 2011
For the first time in San Antonio, Texas, Beverly Hills Celebrity Studio is proud to present one of Hollywood's Top Executive Producers of children's television, Irene Dreayer to South Texas June 25th and 26th. Ms. Dreayer, known as "The Dray" in Hollywood, has launched the careers of Disney Stars Dylan and Cole Sprouse, Debby Ryan, and Tia and Tamera Mowry. She has also been instrumental in the launch of careers for superstars Miley Cyrus and Zac Efron.
The Dray, Executive Producer of Disney Channel's "The Suite Life" Show Franchise, will be conducting a series of Master Classes, June 25th and 26th, on her Top 10 Audition Rules for kids preparing for a career in show business. Kids will learn how to most effectively prepare for auditions and understand what TV networks look for in kid talent.
The Dray's Top 10 Audition Rules For Success includes a showcase for kids to perform for The Dray and two days of Master Classes throughout the weekend to ensure every child participating in the showcase has the opportunity to work extensively with The Dray in small Master Classes.
The Dray uses her experience discovering Tween stars to personally coach kids wanting to follow in the footsteps of their teen idols Miley Cyrus, Dylan and Cole Sprouse and Debby Ryan with her method, The Dray Way.
This one-time event is being produced by Beverly Hills Celebrity Studios, who strive to bring top notch influential professionals in the entertainment industry to work with South Texas talent.
To enroll your child in The Dray's Master Class, call Jimmy Villarreal at Beverly Hills Celebrity Studios at (310) 650-6163.
The Showcase starts Saturday, June 25th at 12:00pm. Saturday, June 25th, Master Classes are from 1:00pm – 9:30pm CDT. Sunday, June 26th, Master Classes are from 10:00am until 9:00pm CDT.
ABOUT THE DRAY WAY
The Dray Way is an entertainment career coaching service for kids, a digital Tween channel and a social community with the goal to "omni-cast" the type of original programming for Tweens not found on The Disney Channel or Nickelodeon. The Dray Way is an interactive channel with shows cast from our community of talented kids under the direction of Tween star maker Irene Dreayer (The Dray), Hollywood's #1 kid talent expert and only trusted career coach for kid talent. The Dray is a veteran Executive Producer for The Disney Channel, The WB and ABC Family.
To learn more about The Dray Way visit http://thedrayway.com.
###