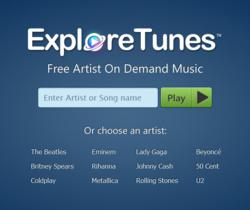 San Francisco, CA (PRWEB) June 14, 2011
Explore Systems Inc. today introduced ExploreTunes™, a free browser based music player that allows users to listen to, view and share the full catalog of songs, videos and lyrics from any recording artist of their choice.
ExploreTunes makes use of a powerful combination of an expansive artist database in conjunction with proprietary artist searching and matching techniques. This allows ExploreTunes to quickly provide playback of any chosen artist's song list, ordered either by popularity or song title. ExploreTunes also includes the patent pending ExploreMatch™ feature that finds additional artists with styles that fans of the current artist will also like.
By utilizing streamed versions of music videos available from YouTube, ExploreTunes allows users to freely explore and enjoy a wide variety of artists and songs while steering clear of illegal file downloads. ExploreTunes also makes it easy to purchase an MP3 download of the current song so the user can load the song on their iPod or other portable media player.
After selecting a song or artist, ExploreTunes displays a playlist of that artist's catalog, along with the music video of the currently selected song. The user may also choose to listen to live songs and interviews of that artist and view the lyrics for that song. Biographical information for that artist is also displayed, as well as links to current news about the artist. In addition the artist's popularity rank is displayed utilizing the proprietary ExploreRank™ technology developed by Explore Systems Inc.
The ExploreMatch feature provides links to ExploreTunes pages of similar artists, making it very easy for users to explore new worlds of music they are likely to enjoy. Users can also sign up for a free ExploreTunes account that allows them to easily build lists of their favorite artists and songs and listen to them wherever they have internet access. Users can also easily share their favorite artists and songs with integrated Facebook support.
"Our ExploreMatch feature is very innovative as it uses artificial intelligence methods to search our database to find artists that many fans of the current artist also like. ExploreMatch suggests some artists that the user may not have heard of but will really enjoy. We believe it's the best artist matching technology available, particularly since it includes full coverage of international artists", said Mark Kaplan, Explore Systems Vice President.
"Our position as the developers of the world's most popular audio software accessory gave us the means to use real world user listening statistics to create the ExploreTunes artist database. This deep database allows us to provide the unique features of ExploreTunes and it will also allow us to introduce some exciting new features over the next few months", said Dr. Paul F. Titchener, Explore Systems President.
ExploreTunes operates as a web application accessible from any browser and is also available in a special Bonus Pack version that integrates with the popular iTunes media player. The iTunes version makes it easy for users to access the full catalog of songs for any artist in their iTunes library in addition to viewing videos, interviews and artist news for all their current iTunes songs. The ExploreMatch artist matching feature also allows iTunes users to discover additional music they will enjoy. ExploreTunes is also available in special versions for the Windows Media Player and Winamp player.
ExploreTunes and the ExploreTunes Bonus Pack are now available for free at http://www.ExploreTunes.com .
Explore Systems Inc. was founded in 2011 by Paul Titchener and Mark Kaplan. Dr. Titchener received his Ph.D. from Stanford University, holds multiple patents and was a co-founder of Comdisco Systems, a company that introduced an innovative DSP and communications system design tool with world wide sales exceeding $300 million. Prior to forming Explore Systems Dr. Titchener and Mr. Kaplan co-founded Power Technology, a company that developed the DFX® MP3 enhancer for the Windows Media Player, which since its introduction has become the world's most popular audio software accessory with over 30 million downloads.
For more information about ExploreTunes and Explore Systems Inc., visit http://www.exploretunes.com/pages/company or call 415-467-7886 x122 .
ExploreTunes, ExploreMatch and ExploreRank are trademarks of Explore Systems Inc. iTunes, iPod, Windows Media Player, Winamp, YouTube and Facebook are registered trademarks of their respective holders.
###