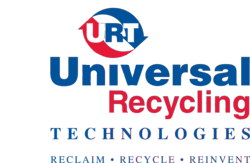 Janesville, WI (PRWEB) June 09, 2011
Universal Recycling Technologies (URT) is celebrating its recent successes and ongoing commitment to responsible recycling with a series of free community e-cycling events this June. Drop off old computers, monitors, printers, TVs and other household electronics and URT will recycle them for free. It's the company's way of saying thank you to the local southern Wisconsin residents that have supported Universal Recycling Technologies (formerly CRT Processing) throughout the years.
WHEN:
Saturday, June 18 from 10am-2pm
WHERE:
Three convenient southern Wisconsin locations:
The Janesville Mall, 2500 Milton Avenue, Janesville, WI 53546
Look for the big trucks in the mall parking lot facing Milton Ave., near Kohl's Department Store
East Towne Mall, 89 East Towne Mall, Madison, WI 53704
Look for the big trucks in the frontage area in front of the food court and Barnes & Noble
West Towne Mall, 66 West Towne Mall, Madison, Wisconsin 53719
Look for the big trucks just behind Sears and adjacent to Dick's Sporting Goods
WHAT:
URT will recycle at no cost any and all types of household electronic equipment. Drop off old computers, computer monitors, computer peripherals (including keyboards, mice, disk drives, etc.), printers, televisions, cell phones and other household electronics, like old VHS and DVD players. URT will take it all and recycle it properly for free.*

URT regrets it is unable to accept appliances, dehumidifiers or mercury-containing devices.
WHO:
Residents from any municipality or county are welcome to attend this event. Visitors can rest assured their items will be recycled in an environmentally sustainable manner. URT's Janesville Campus is ISO 9001:2008, ISO 14001:2004 and e-Stewards certified. e-Stewards recyclers adhere to the strictest available recycling standards in the industry today. Read more about these recent honors here.
WHY:
This e-cycling extravaganza is in celebration of URT-Janesville's recent ISO and e-Stewards certifications. URT champions responsible recycling. Electronic waste (e-waste), and in particular the leaded glass used in older-model TV screens and computer monitors, is hazardous if not properly recycled. Electronic equipment contains poisons like lead and cadmium, which can leech into the environment, potentially contaminating soil and groundwater. This is URT's third annual free recycling collection event in Madison, WI and one of many it supports nationwide to encourage responsible recycling.
BONUS EVENT:
Can't make it on June 18? On Saturday June 25 from 10am-2pm URT will host a second free recycling event at its headquarters, 2535 Beloit Avenue, Janesville, WI. Once again, URT invites community members to stop by and drop off old computers and household electronics at no cost to the consumer.
Universal Recycling Technologies, LLC (URT) is a national electronic and universal waste recycling organization, headquartered in Janesville, WI. URT provides end-of-life recycling (de-manufacturing), asset recovery services (ARS), universal waste, commodities, and logistics management services to major market segments including original equipment manufacturers (OEM), retailers, municipalities, and Fortune 500 organizations. Since 2007, the company has been privately owned by Hendricks Holding Company, Inc. To learn more, please visit http://www.universalrecyclers.com.
###