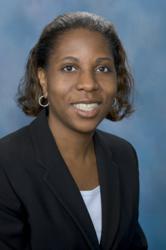 Hartford, CT (PRWEB) June 09, 2011
McCarter & English LLP is pleased to announce that Hartford product liability partner Moy N. Ogilvie has recently been appointed as the 2011-2012 president of the Lawyers Collaborative for Diversity, Inc. (LCD), a Hartford, CT-based organization whose mission it is to increase the recruitment, retention and promotion of lawyers of color in the legal profession throughout the state. The position is for a one year term. Ms. Ogilvie is a member of the Executive Committee for LCD and is the current co-chair of McCarter's Diversity Committee.
Diversity and inclusion is a top priority for McCarter," said Eric Grondahl, McCarter's Hartford office managing partner. "We have a culture at the firm that encourages recruiting and developing talent from all backgrounds. Our Hartford and Stamford offices have been long-standing members of LCD in Connecticut. As Diversity co-chair and a fellow partner, Moy has excelled as a professional and community leader both inside and outside of our firm. She has helped us to strengthen and broaden our diversity goals and we recognize her as an invaluable member of McCarter's future. We congratulate her on this great honor and wish her much success in this new position."
"As an LCD Executive Committee member, I was able to see first-hand the commitment of the LCD member organizations to continue to address LCD's mission and the opportunities that exist for an organization like this in our community," said Ms. Ogilvie. "I look forward to contributing to the development and expansion of LCD."
As president, Ms. Ogilvie is expected to work with the organization's Board of Directors and Committee members to oversee the continuing success of the LCD's Programs and collaboration with Connecticut law firms, corporate law departments, affinity bar associations and public sector entities.
"With Moy's professionalism and the respect that she has in Connecticut's legal community, I can only imagine the possibilities during her tenure," said Carolyn Golden Hebsgaard, LCD's Executive Director.
Ms. Ogilvie's areas of practice include product liability, toxic tort matters and business litigation in state and federal courts. She is a member of the Federal Grievance Committee for the United States District Court for Connecticut and currently sits on the Board of Directors for the Children's Law Center, Inc. and the Hartford Youth Scholars Foundation. In addition, she handles various pro bono matters for Lawyers for Children and other legal non-profit organizations.
In 2005, Ms. Ogilvie was selected as a 40 Under Forty award recipient by the Hartford Business Journal. The award honors young professionals who have demonstrated skill and talent in their fields and made significant contributions to their communities. She has also received the Connecticut Law Tribune's New Leaders of the Law Impact Award. In 2010, Ms. Ogilvie was selected as one of Connecticut Law Tribune's 2010 Women in the Law: High Achiever's Yearbook.
She is a graduate of Boston University School of Law and Bowdoin College.
About McCarter & English, LLP
McCarter & English, LLP, established more than 160 years ago, represents Fortune 500 and middle-market companies in their national, regional and local litigation and on important transactions. Its 400 attorneys are based in offices in Boston, Hartford, New York, Newark, Philadelphia, Stamford, and Wilmington. http://www.mccarter.com
###