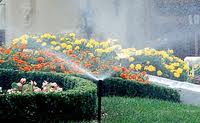 Increase curb appeal and conserve precious water with a smart lawn sprinkler system.
Toronto, Ontario (PRWEB) June 10, 2011
Just in time for summer – home, business and golf course owners looking to improve their green spaces have a reason to rejoice with the launch of the new website by Future Green Irrigation – renowned golf, commercial and residential lawn sprinkler system and irrigation experts.
Those looking to increase curb appeal and boost property value, save time with a smart lawn sprinkler system all while becoming more environmentally friendly by conserving water (not to mention lowering watering costs), now have a trusted and reliable source to turn to online for all their needs.
The site is bright and lively – as their many delighted customers will tell you, like the lush landscapes they create – with a simple layout and navigation, making it intuitively easy to use and understand for anyone, no matter their level of web savvy.
The eye-catching and highly useful website is a fitting testament to Future Green which is known and respected for their dedication to quality of work and service for the last combined 30 years serving Toronto, the GTA, Vaughan, Markham, Richmond Hill, King City, Aurora, Newmarket, York Region, Durham Region, Bradford, Barrie, Ontario and beyond.
Visitors can learn about Future Green's singular mission – to provide their customers with service that "exceeds expectations" by dealing directly with the principals of the business on projects of any size.
They provide lawn sprinkler systems for homes and businesses and have created and helped maintain lush and healthy landscapes for local schools, office buildings, sports fields, shopping centers, condos – and many of Ontario's most elite golf courses. For those who need to do some trenching or excavation, the team also has a Ditch Witch Vibratory Plow and a nimble Ditch Witch Zahn R300.
In the new website's 'Products' section, visitors can learn about the top-quality sprinkler systems from Rain Bird and Toro that the team installs and maintains. As opposed to the old-school sprinklers or stand-and-hose method (whose dad didn't use that one?) – these new models apply the ideal amount of water efficiently, preventing water wastage and ensure vegetation and lawns get the right amount of water at the right time.
Home and business owners can even rest easy knowing that these systems are sustainable and help ensure availability of water for future generations, not to mention they conserve energy in pumping, delivery and wastewater processing. That means there's no tradeoff - homeowners can see their water bill going down even as their green space becomes more full, vibrant and lush.
Home, business and golf course owners now need look no further for a reliable and information-rich website online for all their sprinkler system and irrigation needs. The Future Green team are excited by the launch and encourage all their existing and potential clients to come check out the site and explore everything it has to offer.
Visit us at http://www.futuregreenirrigation.ca or call (416) 553-7488 in Toronto, 905-960-0040 in York Region or 705-999-0907 in Barrie or toll free 1-866-936-5296 for a free consultation at any time. You'll be glad you did!
About Future Green Irrigation
It's our mission to provide our customers with the best in lawn sprinkler system installation and service that exceeds all expectations - whether it's a new installation or maintaining an existing system. With Future Green Irrigation, no project is too large or too small and you deal directly with the principals of our business, which provides you with a commitment to quality through a personalized, hands-on approach and peace-of-mind through accountability and trust.
# # #