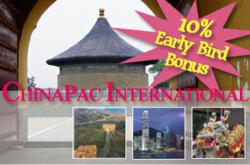 Vancouver, BC (PRWEB) June 09, 2011
Chinapac International, premier specialist in China & the Orient since 1985, promotes Early Booking Bonus, the newest sale on their best-selling China tours.
The Early Booking Bonus offers a good 10% chunk off on selected China tour bookings made before July 21, 2011. This offer applies to the following popular China tours:

In order to qualify for the Early Booking Bonus, tour must be paid in full at the time of booking. Promotion valid until July 21, 2011. For more information, please visit http://www.chinapac.com or call 1-800-661-8182.
Chinapac International specializes in travel service to China and the Orient and is proud to celebrate 26 successful years in the travel industry as the premier travel package tour operator to the People's Republic of China and South East Asia.
###