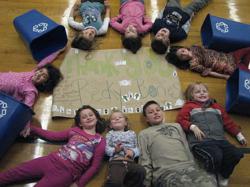 There are several different levels that our fans want to be engaged upon for the grant program" says CEO & Co-founder, Krista Kokjohn-Poehler
San Diego, CA (PRWEB) June 09, 2011
Becky Bones; an entertainment fashion brand for inspired tweens who want to save the planet, is engaging tweens through a hub of social media and technology in order to fulfill the Becky Bones mission of driving dollars and awareness to the environment while empowering today's youth.
Through a micro-grant program, Becky Bones gives back 25% of after-tax profits for tweens own eco-projects and to non-profit organizations that work toward saving the environment. If Becky Bones fans don't have a personal eco-project to win money for, they can play games and vote in polls to help Becky Bones give to organizations that the tweens help choose. For example, after the horrifying BP Gulf Oil spill, Becky Bones fans choose the National Wildlife Federation Gulf Oil Restoration Fund in a poll among four different organizations. Becky Bones wrote the check for $200 the next day.
"There are several different levels that our fans want to be engaged upon for the grant program" says CEO & Co-founder, Krista Kokjohn-Poehler, "first, they have the option of winning money for an eco-project that they create themselves (or with their school); Second, they can vote in our polls of different organizations to give money to; and Third, they can play a 30 second "Pass the Can" game helping Becky recycle a can and at each 10,000 play increment we give another grant away."
Social media and the Becky Bones hub play a big role in driving the grant donations. Becky Bones' "Pass the Can" game was created to be installed on any Facebook page so that organizations that Becky Bones partners with can make it easily accessible to their fan-base. The game also lives on Facebook.com/IloveBeckyBones and the home page of BeckyBones.com. "Not only do the fans want to be engaged on several levels, but they want to be engaged where they are already spending time so we put the emphasis on developing a deeper relationship with them where they are at rather than on trying to push them to a particular site" explains Krista Kokjohn-Poehler.
The strategy has proven successful as a partnership with the Surfrider Foundation and their 100,000 fans on Facebook helped the game achieve its 10,000 mark to give a $200 grant just two days after being placed on the Surfrider Facebook page.
Similarly, a partnership with online fashion game Girlsense.com has given Becky Bones an additional platform to share their fashion with their tween fans. While fans can download character art and a t-shirt template from the Becky Bones website, 18 million tweens are already designing clothes at Girlsense.com so Becky Bones partnered with them to launch a branded boutique on the site. To date, the Becky Bones boutique has garnered 330,000 views, 110,000 items sold, 27,000 favorites, and a rating of 4.5 stars (out of 5).
Becky Bones success has resulted in their selection by Licensing International Expo for inclusion in its new Brand Showcase featuring upcoming innovative brands during the Expo's June 14-16th tradeshow in Las Vegas. Becky Bones will also host a booth at the show (Booth #3874).
About Becky Bones, LLC
Becky Bones is an entertainment fashion brand for inspired tweens who want to save the planet. Becky Bones gives back 25% of profits for grassroots solutions like planting trees, starting recycling programs, and other green projects created by kids and teens.
http://www.BeckyBones.com is an eco-portal where tweens can get important eco-information and environmental tips, download our characters and other art, get money to save the earth, chat in our forum, check out products, design their own t-shirts, share their stories through photos & videos, and join in Becky's crazy adventures with her friends Drip, Lucy Lies, and Tree against the Eco-mafia.
If you'd like more information about Becky Bones®, go to http://www.BeckyBones.com/MediaKit or contact Krista Kokjohn-Poehler at Krista(at)BeckyBones(dot)com
###