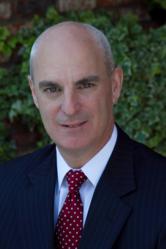 Eric Diamond begins his term as Sinai Temple's new president on July 1.
Los Angeles, CA (PRWEB) June 10, 2011
Eric Diamond first came to Sinai Temple nearly 28 years ago. "It was Rosh Hashanah," Diamond remembers. "Don Rickles was giving the sermon—there he stood, in the Rickles Gym, speaking from the heart about the importance of young Jews remaining involved in the temple."
"And now," Diamond continues. "Here I stand."
Elected by the Board of Directors to succeed Ira M. Friedman, Eric Diamond begins his term as Sinai Temple's new president on July 1. It is a position for which he has been well groomed. For more than a decade, he's not only been an active member, he has served on nearly every one of the synagogue's committees. A lawyer by training, he has been a member of the Board of Directors and has chaired the Bylaws Review Committee and the Nominating Committee. He co-chaired the Adult Education Committee and served as Vice President of Administration
"I am passionate about Sinai," Diamond says. "I am passionate about its community."
Mr. Diamond is passionate, too, about the goals he wants to achieve as the president of Sinai Temple, which was founded in 1906 as Southern California's first Conservative congregation. His top priorities? Decrease costs, increase revenues and attract new members—goals that Diamond hopes to achieve with a combination of strategic planning, hard work and plenty of fresh ideas. He has already proposed an innovative plan to renegotiate vendor contracts, obtaining discounts in exchange for accelerated payment, as well as establishing cooperative purchasing programs with other synagogues. He has recommended hiring a top-level Development Director and doubling the target for the synagogue's annual Kol Nidre campaign. He also has suggested enhancing membership recruitment efforts, with a financially incented referral program, and developing new programming to broaden the potential membership base, adding 100 new families to the congregation.
"These goals are aggressive, but definitely achievable," says Diamond. "After all, we have committed lay leadership, devoted membership and outstanding clergy and staff. We all have the drive to do whatever it takes to preserve the future of our congregation."
"As a former Sinai Vice President once advised me," Diamond continues. "If we want Sinai to be here for our children, then we have to be here for Sinai. I am thrilled to have the opportunity to contribute."
ADDITIONAL INFORMATION:
SINAI TEMPLE, located in Westwood California at Wilshire and Beverly Glen, was established as the first Conservative congregation in Southern California in 1906. The nearly 2,000 family congregation is led by Rabbi David Wolpe, a world-renown author, speaker and religious commentator, who was ranked by Newsweek magazine as the #1 rabbi in America.
Rabbi Wolpe writes regular columns for the New York Jewish Week, beliefnet.com, as well as periodic contributions to the Jerusalem Post, The Los Angeles Times, and many others. He is an ethics columnist for Campaigns and Elections Magazine and a monthly book columnist for L.A. Jewish Journal. He has been on television numerous times, featured in series on PBS, A&E, as well as serving as a commentator on CNN and CBS This Morning. Rabbi Wolpe is the author of seven books, including the national bestseller Making Loss Matter: Creating Meaning in Difficult Times.
ERIC DIAMOND is the Chief Operating Officer of Hackman Capital Partners, LLC, a national real estate investment firm and is a member of both its Executive Committee and Investment Committee. Previously, Mr. Diamond held positions as President and Chief Executive Officer of Seven Forty Management, a private management company, and as Executive Vice President and General Counsel for Barclay's Realty and Management Company, both in Los Angeles, California. He is a graduate of the University of Virginia (B.A. Economics, 1983) and the UCLA School of Law (J.D., 1986). In addition to his involvement in Sinai Temple, Mr. Diamond also serves as a director of the University Chapter Fraternal Home Corporation (Alpha Epsilon Pi Fraternity House Corporation at University of Virginia). He formerly served as a director of Vista Del Mar Child & Family Services (Los Angeles) and the Alpha Epsilon Pi Foundation (Indianapolis, Indiana).
###