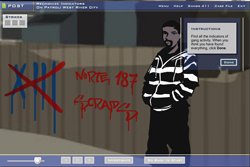 We are honored to partner with California Commission on POST on such crucial training initiatives as educating law enforcement on successfully identifying and responding to gang activity
(PRWEB) June 09, 2011
Allen Interactions, an internationally acclaimed custom design, development and strategic consulting firm of e-learning solutions, is a gold winner in the 2011 Summit Creative Awards® for its creative e-learning project work with The California Commission on Peace Officer Standards and Training (POST).
The award-winning California Commission on POST e-learning course, Gangs: PC 186.22 for Patrol, was developed to help prepare California law enforcement officers to identify and respond to gang activity in their cities. The course used a highly interactive, scenario-based approach to not only educate officers about some of the key trends and groups in California, but to bring home the importance of accurate and detailed field reporting to support gang prosecution. "We are honored to partner with California Commission on POST on such crucial training initiatives as educating law enforcement on successfully identifying and responding to gang activity," stated Alex Watson, studio executive for Allen Interactions' San Francisco, California studio. "This gold award is a tribute to California Commission on POST's continued innovation and forward-thinking in building e-learning that is meaningful, memorable and motivational."
About the Summit Creative Awards
The Summit Creative Award recognizes and celebrates the creative accomplishments of small and medium sized advertising agencies and other creative groups with annual billings under $30 million. Over the seventeen years, the competition has established itself as the premier arbiter of creative excellence for firms of this size and has become a coveted honor worth touting.
This year's panel of international judges included:

Baron Manett, Sr. Vice President, Ariad Custom Communications – Canada
Charles Van Vechten, President/Chief Creative Officer, Jabob Taylor Creative Group – United States
Daniel da Hora, Presidente, Clube de Criação de Pernambuco – Brazil
David Ross, Creative Director, Media Arts, Coinstar, Inc. – United States
Gary Rozanc, Columbia College Chicago – United States
Gregg Bernstein, Visiting Lecturer | Graphic Design, Georgia State University – United States
Kevin Hersh, Creative Director, MFX, Inc. – United States
Jack Adamson, Senior Creative, Crackerjack – United States
Louai Alasfahani, Managing Director/Creative Director, Paragon Marketing Communications – Kuwait
Juan Pablo Valencia, Creative Director, TBWA\Central Asia & Caucasus – Kazakhstan
Mervyn Tan, Creative Director, Autumn:01 – Australia
Michael Pan Sin, Associate Director, World Wide Web Domination – Malaysia
Poul Bjørn, Owner, Entegrate Creative – Denmark
Richard Taylor, Principal, RT Strategic – Canada
Roy Matich, Executive Creative Director, Cypress Consulting – United States
Thomas Bjerregaard Bonde, Direktør/Partner, RECREATIVO – Denmark
Tom Roychoudhury, Chief Innovations Officer, Middle East Communications Networks – Dubai
Entries in 23 major categories are judged against a stringent set of standards. Judges search for innovative and creative concepts, strong executions and the ability to communicate and persuade.
"Winning a Summit Creative Award is a significant accomplishment in ones career. The combination of scrutinizing judges and tough judging criteria ensures that only deserving entries receive Summit recognition," said Jocelyn Luciano, executive director for the Summit International Awards. "What a year to see creativity bounce back from the doldrums, and with such strength. Watching the judges' debate the details of individual entries in the run-off for the tops spots was inspiring."
The Summit International Awards (SIA) organization was founded in 1994. The organization c onducts the Summit Creative Award, the Summit Marketing Effectiveness Award and the Summit Emerging Media Award. The 2011 competition is the 17th year for the creative competition. Additional information about the Summit International Awards organization, its competitions and winning firms can be found on the Summit Awards web site at http://www.summitawards.com.
About Allen Interactions
Since 1993, Allen Interactions has delivered custom e-learning and blended solutions that serve employees, partners and customers of many of the world's leading companies, including Apple, Essilor, HSBC, and Motorola. Through studios located in the Midwest and East and West Coasts, the Company provides high-level expertise in instructional design, technical, creative, process, project management, and writing integrated together for sustained learning and real business results.
Under the leadership of Michael Allen, widely respected for his published works and abilities to define, design and build both learning solutions and tools that allow creative individuals to harness the potential of evolving interactive technologies, Allen Interactions will launch a revolutionary authoring system, ZebraZapps in 2011. ZebraZapps allows developers and non-programmers to create rich interactive media applications easily and quickly, as well as share, publish, and sell their inventions. Technology designed and built by Allen led to the formation of Macromedia and revolutionized multimedia software development. With ZebraZapps, Allen is set to disrupt the industry once again.
For more information visit: alleninteractions.com.
###