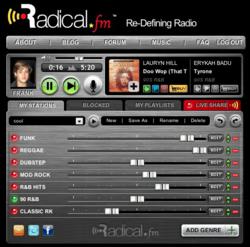 Using our unique Player anyone can create an ideal music mix, and then change its direction as quickly as their mood moves them too, without ever hearing an unwanted song.
Los Angeles, CA (PRWEB) June 22, 2011
Radical.FM, Inc. (http://www.radical.fm) announced today the invitation-only private beta launch of Radical.FM, it's new, personal internet radio service. Building and expanding on experience gained from Tomsradio.com, an early 21st century Swedish/American pioneer of internet radio, Radical combines user tailored music radio stations (like Pandora™ and Slacker™) with on-demand playlist functionality (like Rhapsody™ and Spotify™), and adds social networking and personal broadcasting capabilities. For the first time all of these functions will be available in one integrated service. Radical.FM will initially offer free personal radio services, with full Play-On-Demand functionality for a paid Premium subscription tier available at a later date. In addition, the patent pending LiveShare™ feature permits personal music streams to be shared in real-time and DeeJay™ allows a user to speak to all who are listening to their LiveShare stream. Bona fide music and technology journalists & bloggers as well as music industry professionals who have not yet received Radical's private beta invitations, should contact 'Maria(at)radical.fm'. A public beta launch for the United States will follow soon, with international expansion planned for later this year. For the public beta sign up, go to Radical.FM.
In addition, Radical Indie™, a similar service for independent artists (not signed to the Big Four), is expected to launch later this year.
Radical harnesses the Cloud to make all the world's licensed music available to anyone, anywhere. Its new Player improves on personalized radio stations like Pandora, adds on-demand playlists like Rhapsody and Spotify, incorporates advanced social media functionality, and offers personal broadcasting abilities to usurp terrestrial radio on its own terms. Radical's Player is currently web browser based only, development for mobile devices is underway.
"Before Radical.FM, personalized radio lacked the flexibility to adapt to a user's changing moods," said Radical Founder and CEO, Thomas McAlevey. "I've enjoyed services like Pandora, but it takes time to get a station just right. And when I do, I don't want to meddle with it just because I'm having a party. Using our unique Player anyone can create an ideal music mix, and then change its direction as quickly as their mood moves them too, without ever hearing an unwanted song."
"We made the decision to launch an invitation-only beta to industry professionals and journalists in order to give the system a shakedown before going public," continued McAlevey. "We are looking forward to the feedback from these early adopters."
About The Player
The Radical Player presents a complete music delivery service to the listener, with a number of unique features and controls.
My Stations™ was inspired by terrestrial radio programming practices and a standard audio mixing board. It works together with Blocked (Artists/Songs) to create unique personal radio stations, as well as with LiveShare to allow users to 'host' their Stations in real time with others. Unlike other services, Radical Stations do not try to 'guess' what music listeners might like based on a few song choices and subjective computer parameters. Instead, Radical harnesses the skills of the entire broadcast radio industry to divide its huge song library into professionally formatted Genres, similar to Satellite Radio, such as Rock, Pop, Hip-Hop, and Country. The Player allows users to blend as many Genres as they like, and then assign each Genre a value relative to the others. Since blending can be changed instantly, the result is an endless stream of exactly the kind of music the listener wants to hear at any given moment. Users can adjust ratios, add or delete Genres, as well as rate individual songs. Blocked (Artists/Songs) allows users to prevent specific songs or entire artists' catalogs from reappearing on their Stations.
LiveShare™ (patent pending) makes every user the owner of a broadcast radio station filled with legal content, whose reach is only limited by the host's popularity. LiveShare users can allow any number of friends to listen to their music stream in real time. A woman in Pittsburgh can share her music live with her husband stationed overseas, or Lady Gaga can have millions of fans tune-in to her station. A DeeJay function allows hosts to speak live to their audience via the microphone on their computer or Smartphone. The tools for inviting others to listen to broadcasts are similar to Facebook (regular Facebook integration is available as well).
Full Play-On-Demand functionality for a paid Premium tier will be launched later this year. Subscribers can create personal Playlists choosing from the most comprehensive library in the world (with over 12 million songs). Playlists automatically become available as Genres for use on My Stations, providing ultimate control of a personal music stream.
About Radical Indie
Indie is short for Independent. Ranging from tiny bands to major acts like Nine Inch Nails, Indie Artists are musicians not signed with the Big Four or their subsidiaries. Often non-conformist, always creative, theirs is a world of music not optimally suited to mainstream services like Radical.FM (or Pandora). Radical Indie will be a clone of Radical.FM's Player and design platform, but populated entirely with Independent Artists and their music. It is expected that Radical Indie bands and artists will find many uses for the LiveShare/DeeJay combination in order to connect with their fans. Expected to launch later this year, independent labels and artists may sign up today by going to radicalindie.com.
About Radical.FM, Inc.
Radical.FM is an independently owned and operated webcasting facility. Leveraging CEO Tom McAlevey's success and expertise in Sweden with Bandit Radio (the Rock Home of Stockholm) and Tomsradio.com, an early personal internet radio player, Radical has been in stealth mode for a year since raising seed money to develop its core product. More information about the company can be found at Radical.FM.
DeeJay, LiveShare, My Station, and Radical Indie are trademarks of Radical.FM, Inc. Other trademarks are the property of their respective owners.
###