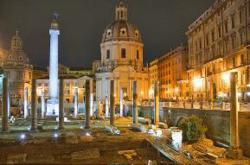 Seoul, South Korea (PRWEB) June 09, 2011
Seoul Semiconductor today announced that it has installed its LED lights on the landscape lighting of the Foro Romano, one of the most important archaeological sites in Rome.
Picture: Landscape Lighting of the Foro Romano with Seoul Semiconductor's LED Lights
Seoul Semiconductor has supplied Z-Power series which are excellent in terms of reliability, efficiency and color consistency for the Foro Romano project. Most lights were installed on the floor, while some were installed on the Column of Trajan.
John S. Bae vice president of Seoul Semiconductor, said, "The Z-Power series supplied for the Foro Romano Project was the best choice to keep lighting up the historic place of Rome with long life and low-power consumption." He added, "Seoul Semiconductor's LED lights have been able to meet the strict requirements of hazardous materials by the BITKOM and environmental groups because they are safe from toxic heavy metals such as mercury and do not emit hazardous infrared or ultraviolet rays."
Silvano Latteo, president of DTS, said, "We respect Seoul Semiconductor's innovative technology and extensive experience. That's why we have built and maintained a close relationship with Seoul Semiconductor for a long time." He continued, "Thanks to the success of the Foro Romano Project, we have expanded our business to Basilica di San Pietro fuori le mura."
About DTS Lightning
More than 90 employees develop, manufacture and install modern and innovative lighting solutions. On more than 11,000 square meters, DTS produces projectors, moving heads, stroboscopes, fog machines and many more effects machines. The company is located in Misano Adriatico and was founded in 1980. Today the company sells their products in more than 75 countries.
About Seoul Semiconductor
According to the 2011 LED market reports issued by IMS Research in the U.K. and Strategies Unlimited in the U.S., SEOUL SEMICONDUCTOR is the world's fourth largest LED supplier, holding more than 6,000 patents. In particular, it owns a wide range of LED technology and production capacity in areas such as deep UV LEDs and non-polar LEDs, as well as Acriche, the world's first commercially-produced AC LED. At present, it provides high-quality LED products through 40 overseas branches (including three local corporations) and 150 domestic agencies and distributors.
# # #