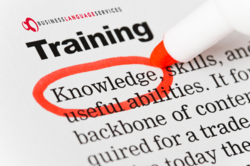 Adam Burman, Business Language Services' MD, says:
"We received a really good response to the innovative idea developed by our working team..."
Cardiff (PRWEB UK) 11 June 2011
Business Language Services Ltd. (BLS), one of the UK's leading suppliers of translation language services, is leading the way in which companies and employees communicate.
Twenty years ago, BLS mainly offered English as a Foreign Language courses, and is still regularly organising bespoke courses today for overseas staff coming to the UK to visit their colleagues in Wales, and learn English in the process. At the same time, and to keep up with demand, new emerging markets and international needs, BLS constantly reviews its product range and course formats. The core market remains the provision of one-to-one lessons in a wide variety of languages, but BLS also delivers small group lessons for individual companies. In addition, BLS can develop training programmes aimed at helping students achieve the standards required for any examination they wish to sit independently. Moreover, thanks to a more intensive campaign, extra teachers have been recruited and BLS is now in a position to offer more courses at a given time in the mainstream languages such as French, German, Spanish, Italian and Welsh, but also in less frequently requested languages such as Russian, Chinese, Arabic and Japanese.
Over the last year, the Welsh government has brought in a new legislation which has had an impact on the way companies communicate with their employees. Business Language Services, a Welsh company situated in Cardiff, has embraced the legislation and offers Welsh staff the opportunity to learn Welsh, to communicate in Welsh amongst themselves, or with their Welsh customers and suppliers. BLS has had over 20 years' experience in helping people break down communication barriers and is taking foreign language training to another level.
In the last three years and under new management, new courses have been developed by the Language Training Department, including intensive formats with an outdoor option (where students can practise real-life 'survival' situations on the streets of Cardiff) and a short introduction to Office Welsh and other European languages (10 hours to equip staff with basic meeting and greeting skills).
The 'Office Welsh' course allows companies to learn the basics of the Welsh language through the study of five topics carefully chosen for their relevance in the workplace. Emphasis is also placed on pronunciation and cultural awareness so that students are able to communicate more effectively and confidently. This, in return, promotes the company's image in Wales, increases work rate and fosters a better working environment.
With company staff often pressed for time and given current budget restrictions, BLS considered it necessary and timely to offer something different in terms of language learning. This is how the idea of the short 'Office Welsh' course came about: as a Welsh company itself, it was only natural for Business Language Services Ltd. to extend the Welsh courses it offers, including a clear business and professional element to it but over a shorter period of time than its usual courses, making it relevant for the workplace.
Adam Burman, Business Language Services' MD, says:
"We received a really good response to the innovative idea developed by our working team and, even at this very early stage, we have been very encouraged by the positive feedback from customers already. One of our customers and students on the short 'Office Welsh' course sent us the following comments: "Many thanks for a fantastic course! Our tutor was terrific and she tailored the course to our specific requirements and modified its content based on our suggestions/requests throughout. She was patient when we struggled and ultimately delivered a very useful meaningful course which was enjoyed by everyone, without exception."
Building on the interest generated by the 'Office Welsh' course, BLS is now developing the same course concept in other European languages, with an aim to make it easier to communicate with each other. The project, labelled 'Language at Work', will cover many foreign languages such as French, German and Spanish.
Since 1990, Business Language Services Ltd. has been providing the full range of language services including language and cultural training, translation services, interpreting services, typesetting, proofreading, voiceovers, foreign telemarketing and language consultancy.
# # #