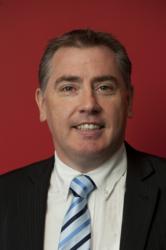 "I am over the moon, it's the best job I've ever had and I'm fortunate to have tremendous support from colleagues and the management team. This business has massive potential. Our aspiration is to be the benchmark site within the Group."
(PRWEB UK) 9 June 2011
Betafence, the country's largest maker of wire and fencing products, has promoted Paul Barkas to the role of UK Manufacturing Manager at its factory in Sheffield.
Paul, who's from Elland, was previously the factory's Operations Manager for Base Products, the department where steel rod is turned into wire.
In his new position Paul is in charge of a workforce of 270 and responsible for the whole manufacturing process including both Base and Finished Products where wire is used to make welded mesh and specialist fencing.
Each week the Sheffield factory, where fencing has been made since in the 1930s, produces between 1,800 and 2,000 tonnes of wire and fencing each week – all made from 100% British steel rod.
Paul Barkas said: "I am over the moon, it's the best job I've ever had and I'm fortunate to have tremendous support from colleagues and the management team. This business has massive potential. Our aspiration is to be the benchmark site within the Group."
Kevin Steers, Betafence UK General Manager, said: "Since joining Betafence in 2009, Paul has shown himself to be an extremely capable manager who is making a big contribution towards achieving our business objectives and helping us to retain our position as UK market leader."
Paul, who is 44, was born in Elland and attended Exley Secondary School. After leaving school and while working full-time, he went on to attain an ONC in Electrical and Electronic Engineering at Huddersfield Technical College. At 19, he then joined Carrington Wire in Elland and studied for an HNC in Electrical AND Electronic Engineering followed by a BENG (Hons) degree in Electrical Engineering at Leeds Metropolitan University. In 2002 he studied for an MBA at Huddersfield University.
Paul worked for Carrington Wire for 23 years and joined Betafence in July 2009, initially as a consultant in Base Products.
###