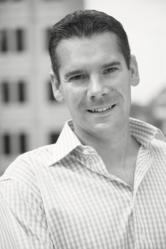 online marketing has become the number one strategy to generate and win new business
London, United Kingdom (PRWEB UK) 13 June 2011
The book "Simon Newsham's Trade Secrets for Marketing Your Business Online" is available for sale on Amazon.com and the author is available to speak at events for business owners to provide them with powerful, actionable information on how to successfully and profitably market their businesses online.
The following statistics provide a snapshot of how people currently use the Internet to find products and services:

2.6 billion local searches are performed every month and this number grows more than 50% per year.
80% of people search online before they make a purchase.
98% choose a business listed on page 1 and from this:
#1 ranked site gets 41% of the clicks
#2 ranked site gets 12% of the clicks
#3 ranked site gets 8.5% of the clicks
These statistics demonstrate that businesses must have an effective online marketing strategy to remain competitive in today's market place.
"We deliver something every business owner desperately wants - a powerful online presence which creates a regular stream of new business. Whilst most traditional forms of marketing are rapidly declining in their effectiveness, online marketing has become the number one strategy to generate and win new business," said Simon Newsham.
Simon went on to explain that "the aim of this book is to demystify the issues that surround online marketing and (without any form of jargon or geek speak) to set out some trade secrets on how entrepreneurs can get online in a meaningful way and achieve Internet domination."
About the Author
Simon Newsham is a business owner who is an expert in online marketing and coaches other business owners how to harness the power of the Internet to boost profits.
Contact Information:
Simon Newsham
Newshams Online Marketing
11-15 Betterton Street
Covent Garden
London
WC2H 9BP
Tel: +44 (0) 20 7470 8820
E-mail: enquiries(at)newshamsonlinemarketing(dot)com
Web: http://newshamsonlinemarketing.com
Review copies of Simon Newsham's Trade Secrets for Marketing Your Business Online and high-resolution images of the author and book jacket are available upon request.
# # #