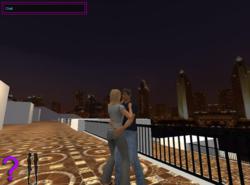 Dedicated to bringing online couples closer together.
(PRWEB) June 12, 2011
Affairsin3D opens first stand alone virtual world Hotel and Singles Bar. These two new products are dedicated to taking online relationships to the next level. Now adult couples can easily take the next step in their online relationship and virtually get closer with one another at http://www.Affairsin3d.com. A life-like, risk and commitment-free 3D virtual world Hotel and Singles Bar that is dedicated to bringing online couples closer together than ever before.
Meeting someone online can be a pretty easy thing to do these days with all of the dating sites out there, but getting closer still comes with many challenges, not to mention potential safety risks.
For couples about to embark in an online relationship, and after getting to know more about someone they have just met online through a dating site via email, or chat, how do they take the next step and help curb their desire for some companionship? Is there something else out there online that could help bring users closer together than they are now, before taking that giant step of meeting in real life?
"This is going to change how people interact online," explains head developer Jonathan Kover. "Having a romantic virtual world encounter is a very powerful one, and is almost always guaranteed to work out for the best."
Participants in 3D virtual worlds are more satisfied with the romantic relationships they form online than with their real-life relationships, according to two studies conducted by researchers at Loyola Marymount University.
These two unique virtual world venues offers users a chance to either meet someone new, or meet up with a date online to get closer with one another in a more profound way. Whether they want to invite someone on a virtual date to the Virtual Hotel or meet someone new at the Singles Bar, both offer graphically rich, engaging environments that really set the mood for romance.
On top of just chatting with each other, users can select a variety of flirtatious and affectionate animations with their virtual characters, like hugging, kissing, to even snuggling on a lounge chair. Affairsin3d.com doesn't just allow users to type how they feel – they can now show it too!
When a user's virtual date starts to really progress, they can upgrade to a VIP membership (only $8.95 a month) for access to the VIP rooms. The VIP rooms provide privacy and offer intimate animations for users to indulge in.
The Affairsin3d.com software is free, secure, has low system requirements, light to download (30-35MB), easy to install and fun to use.
# # #