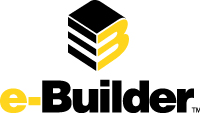 Like Facebook, e-Builder uses the collaborative power of the Internet to receive and prioritize user feedback instantly.
Ft. Lauderdale, FL (PRWEB) June 11, 2011
e-Builder, the industry's most trusted capital program and construction management software provider, announced today that e-Builder 7.9, the second of four upgrades e-Builder has planned for 2011, will be released on June 17th. This latest upgrade includes the launch of a new mobile app for the iPad, additional cost management capabilities, and many user suggested enhancements to make the software even more intuitive.
e-Builder's mobile app fully integrates with e-Builder Enterprise to provide access to plans, drawings and other documents in the field. Processes can be 'mobile enabled' so that field work can be entered into e-Builder right at the job site. Forms like punch lists and commissioning checklists can be completed in the field as the work is performed and the ability to attach photos to the forms on the fly make it easy to document the work. The team at UT Southwestern Medical Center was instrumental in the development of the iPad app. Guillermo Ramos, Director of Capital Improvements at UT Southwestern, said "we will be able to document the results of field inspections, access construction documents, and also create project issues without having to wait until we get back to the office. We can communicate results faster and avoid duplicate entry."
Project cost management and reconciliation enhancements will make it easier to enter or approve cost items (invoices, pay apps, contracts, POs, changes) and will help users increase accuracy during data entry. This, in turn reduces project risk, ensures data integrity, and reduces the time required to reconcile cost data.
This upgrade also incorporates user feedback designed to make e-Builder even easier to use. Jonathan Antevy, e-Builder CEO, noted, "As an Internet (i.e., Cloud) based software, we are able to receive product feedback and implement enhancements on a whole new level. One example is through the 'like-dislike' feature on every screen in e-Builder. Like Facebook, e-Builder uses the collaborative power of the Internet to receive and prioritize user feedback instantly. We can then quickly implement enhancements that truly benefit our users, as we are doing with this release and will continue to do each quarter."
About e-Builder
e-Builder is the leading provider of integrated capital program management software and construction management software for top facility owners and the companies that act on their behalf. The company's flagship product, e-Builder Enterprise, improves capital project execution, resulting in increased productivity and quality, reduced cost, and faster project delivery. Since 1995, e-Builder's technology leadership and construction industry focus has provided thousands of global companies, government agencies, and healthcare and educational institutions managing billions of dollars in capital programs with solutions to improve the plan, build, and operate lifecycle. The company is privately held and headquartered in Fort Lauderdale, Florida. For more information, visit http://www.e-Builder.net.
# # #