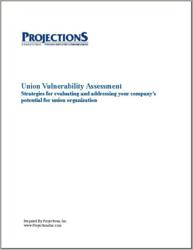 Norcross, GA (PRWEB) June 09, 2011
Projections, Inc. released their newest whitepaper, "Union Vulnerability Assessment: Strategies for evaluating and addressing your company's potential for organization," yesterday. The free whitepaper offers a practical, and easy to follow guide, on how to best conduct the assessment and what you should do with the information received.
"A lot of people mistakenly believe that employee communication strategies are 'one size fits all.' The truth is that every situation is different based on a variety of circumstances," said Walter Orechwa, CEO of Projections. "You need to know where your company's risk level stands so you can make the best decisions to remain union free."
The assessment takes a detailed look at five factors that influence your risk of unionization: Employee concerns, company location, industry, local unions and corporate vulnerabilities. The whitepaper then helps employers build a personalized union avoidance strategy based on whether they fit in the low-risk, moderate risk or high risk category for unionization.
The whitepaper also offers pre-assessment basics that cover all employers including proper employee handbook wording, developing legal non-solicitation/ non-posting policies, and information on training supervisors.
To obtain a free copy of the whitepaper, please download it here: http://www.projectionsinc.com/union_vulnerability_assessment_form.html.
About Projections:
Established in 1979, Projections, Inc. is one of the country's leading providers of employee communications, specializing in critical issues such as skills and management training, health care issues, layoffs and closings, pension and retiree issues, new employee orientations, corporate compliance and ethics, labor relations and other employment-related issues. Headquartered outside Atlanta, GA, the company provides all production in-house with a full-time staff of writers, producers, editors, graphic designers, animators, and multimedia and web design personnel.