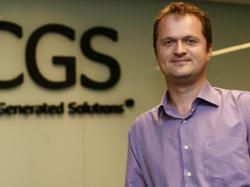 CGS development is robust, and we would like to share our success and experience with Sibiu, one of the brightest and hardworking cities in the region.
New York, NY (PRWEB) June 09, 2011
Computer Generated Solutions Inc. (CGS), a global leader in IT solutions, software and services, is preparing to hire upwards of 600 employees for both agent and manager positions for its newest European contact center office in Sibiu, Romania. The planned opening of the new Sibiu office is a significant strategic move for the company's European expansion. CGS kicked-off their Sibiu office recruiting campaign via Facebook and Twitter today with plans to start operations in July 2011. The Sibiu contact center, a new 2500 square meter (26,910 square feet) facility, will enable the company to better serve the strong and increasing demand for CGS business process outsourcing (BPO) solutions in Europe. Positions for recruitment include customer care, technical support, and other outsourced services for enterprise customers and government agencies around the world.
"With CGS growth in Europe and two offices in Romania already employing close to 2,000 contact center professionals, we needed to expand," said Vladimir Sterescu, CGS Romania Country Manager. "We chose Sibiu because it is a multi-cultural and multi-lingual hub for international business. The more than 20 universities and colleges in the area will provide us with a highly educated base of potential employees that we are now actively recruiting." Sterescu added, "CGS development is robust, and we would like to share our success and experience with Sibiu, one of the brightest and hardworking cities in the region."
The new Sibiu office joins the region's established CGS contact centers in Bucharest and Brasov. The facility comprises multiple fully-equipped training rooms with seating for more than 80 trainees, two meeting rooms, a state-of-the-art data center, and video conference capabilities. CGS contact centers provide services that include customer care, technical support and enterprise help desk in more than 18 languages. The nearby Sibiu International Airport office provides CGS customers with the convenience of direct connections to Germany, Austria, England and Spain, as well as to other Romanian cities.
The new CGS contact center is located in the central region of Romania at Stefan cel Mare, No 193 in the city of Sibiu. Interested job applicants can contact CGS Sibiu by phone at (40) 21 527 00 00 or by email at recruitment(at)cgsinc(dot)ro, and can search for CGS employment opportunities on Facebook at http://on.fb.me/lkZq2x and on Twitter at http://bit.ly/jmNPsC; profile names CGS Romania and CGSRomania, respectively.
Exact date of office opening to be announced.
About CGS Contact Center Solutions
CGS offers a comprehensive range of contact center services that go "Beyond the KPIs" to deliver custom-tailored solutions and highly personalized service that offers a fresh alternative to the one-size-fits all programs often found in the industry. CGS Contact Center Solutions helps the world's most recognized brands reduce costs and increase customer satisfaction by providing multi-channel, inbound and outbound services; including Customer Acquisition, Customer Care, Customer Retention & Recovery, Consumer Help Desk, Enterprise IT Support, BPO, and Channel Development. For more information, visit: http://www.cgscontactcenter.com
About Computer Generated Solutions
For more than twenty-seven years, CGS has enabled global enterprises, regional companies and government agencies to drive breakthrough performance through technology. Headquartered in New York City, CGS is projected to have 4500 employees by end of year 2011 for its 20 offices in North America, Asia, and Europe, including Romania, where CGS has offices in Bucharest, Brasov, and Sibiu. With global delivery capabilities, expertise across leading platforms and deep experience in multiple industries, CGS has become the IT partner of choice for thousands of organizations worldwide. CGS delivers a wide array of proprietary and third-party business applications, technology and business services, and business process outsourcing solutions, including customer care, technical support and corporate learning & training. For more information please visit http://www.cgsinc.com.
# # #