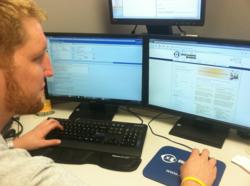 Cedar Rapids, IA (PRWEB) June 13, 2011
Any restaurant manager who's ever had a problem getting access to dependable Internet service or IT support knows the drill. They often spend hours trying to get the Internet to work, or finding someone who can.
Two new services from Circle Computer Resources solve both problems for busy restaurant managers. Both were introduced at the 92nd Annual National Restaurant Association show in Chicago, May 21-24. Circle Computer Resources provides Internet access and technical services to some 500 restaurants across the U.S.
CircleNet™ provides redundant broadband Internet connections to every restaurant location, with automatic failover should one connection go down. It replaces existing MPLS or T1 lines at roughly half the cost. It can include a Payment Card Industry (PCI) compliant firewall and WiFi for internal business use and for guest use. CircleNet features 99.99 % Internet service uptime, as well as remote help desk and local tech dispatch when needed.
CircleHeaven™ offers all the features of CircleNet, plus industrial grade Information Technology (IT) services for restaurants. That means Circle Computer Resources takes ownership of the restaurant's IT issues and provides 24/7 monitoring for problems and immediate alerting of the help desk. So problems are often fixed before the restaurant even knows there is a problem. It also includes round-the-clock POS monitoring, and a secure connection to corporate headquarters. A key element is delivery and set-up of an in-store workstation with constant memory, CPU, HDD and power supply monitoring.
"When it comes to restaurant business technology, we've found there are five common problems," said Circle Computer Resources President Chris Kelly. "Non-existent or undependable secure Internet service; high-cost Internet access through MPLS or T1 lines; no one person responsible for IT, resulting in less attention to important issues; a lack of network and application software monitoring; and no rapid response help, remote or onsite, to quickly resolve IT issues. Our services resolve all these issues because we take full responsibility for Internet access and IT support services."
About Circle Computer Resources Inc.
Circle Computer Resources provides reliable, business-focused IT infrastructure services that optimize operations, manage risk, and deliver business value to large and small companies around the globe. The company specializes in restaurant and service industry IT, Internet access and software development services, as well as nationwide broadcast monitoring services. For more information, contact Leo Kelly at (319) 734-3342, Leo.Kelly(at)ccr(dot)net, or visit http://www.ccr.net/restaurants.
###