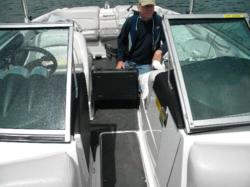 Houston, TX (PRWEB) June 09, 2011
ATA Associates is pleased to announce a history making verdict achieved by its clients, Roger Dreyer and Robert Bale, both of Dreyer, Babich, Buccola and Wood.
On Tuesday, June 7, 2011, in the case of Robert Bell v. MasterCraft Boat Company, et al (No. 140630, Superior Court of California, County of Butte) the jury awarded almost $32 million to the plaintiffs. The jury found the MasterCraft boat defective and awarded the two victims struck by the propeller the record sum.
According to court documents, the accident in question occurred five years ago on Lake Oroville when a MasterCraft X45 carrying 18 people became partially submerged during a low-speed maneuver. Two women were washed into the water and horrifically injured by the boat's propeller.
Dreyer hired ATA Associates to analyze the accident. Hull profile measurements and boat performance testing by ATA's Senior Mechanical Engineer, Ed Fritsch, revealed dangerous characteristics of the 24' pleasure craft. It was discovered during the course of the trial that while the boat was occupancy rated for 18 people, MasterCraft did not do the necessary testing of the boat with that loading before releasing it to consumers.
ATA CEO, Robert Swint, testified to the requirements and standards for testing as well as to the lack of information and warnings in the owner's manual.
ATA Associates is a leading provider of forensic engineering, accident reconstruction, product failure analysis and technical consulting services. ATA does it all with a level of expertise and integrity unparalleled in our field. In fact, ATA Associates has provided expert witness services to defense and plaintiff attorneys for over 30 years earning a level of credibility unsurpassed in the industry.
###