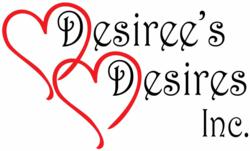 Traditionally, adult stores in Mass sell the products, but don't offer the knowledge or expertise about the products. We find many customers stare at the wall, are sometimes overwhelmed with selection, and want more information before they make a choice,"
Upton, MA (PRWEB) June 13, 2011
Desiree's Desires, Inc., an Upton-Mass, high-end adult boutique, will hold a free seminar to help men and women learn about what adult toy will best meet their intimate needs. On June 15th at 7:00 p.m., Founder and Co-Owner, Desiree Aselbekian, will demonstrate products and answer questions to help customers better understand products and how to choose the right adult toy for them. Attendees will learn what the different toys are made of, how to use them, and most importantly what toy will work best for their needs.
What: Free Educational Adult Toy Seminar
Where: 9 Walker Drive, Upton, Mass.
When: June 15 at 7:00 p.m.
R.S.V.P: info(at)desiree-desires(dot)com
For additional information please contact Desiree at info(at)desiree-desires(dot)com. All adults over eighteen years old are welcome and refreshments will be served. Desiree encourages honest, open and respectful discussions. The boutique is in a discreet Upton location and offers a comfortable female friendly environment.
About Desiree's Desires, Inc.
Founded in 2009, Desiree's Desires, Inc. began as a home party sales company. Now it has grown to a nearly 1,500 square foot retail boutique specializing in high quality lingerie, novelties, toys, lotions, and DVDs, and is open to everyone for all their intimate needs. The mother/ daughter team at Desiree's Desires specializes in creating a personal shopping experience in which all customers feel comfortable asking questions and confident in leaving with the perfect selection. http://www.desirees-desires.com. Follow us on Twitter at @desireedesires or on Facebook. For more information visit us on You Tube.
###