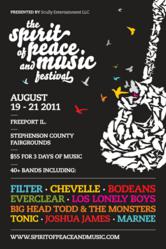 Bringing together the best of the nations' up and coming artists while giving some of the worlds' best emerging bands a national platform and launch pad.
Freeport, IL (PRWEB) June 22, 2011
This summer, Scully Entertainment, LLC and the town of Freeport, IL are joining forces to hold an event titled The Spirit of Peace and Music. The Spirit of Peace & Music Festival seeks to bring together the best of the nations' up and coming artists while giving some of the worlds' best emerging bands a national platform and launch pad.
The three day event kicks off Friday, August 19th, 2011 with 40+ artists showcasing some of the best, hardest working indie bands from across the world, along with internationally established groups such as Filter, Chevelle and the BoDeans, including Everclear, Los Lonely Boys,Tonic as supporting artists, with more names being confirmed weekly! With artists and vendors also showcasing their wares on festival grounds, all participants are working toward a common goal: bringing back the spirit of peace and music and putting Freeport on the musical map of the world.
A grassroots project through and through, the residents of the town of Freeport, IL are intimately involved in every aspect of The Spirit of Peace and Music Festival, with citizens and local businesses investing both money and product to make the event a success not only this inaugural year, but for many years to come. More than 40,000 people are expected to attend, and approximately 10,000 of them will set up camp for the weekend on nearby dedicated acreage.
The setting is in Freeport, Illinois, in the midst of America's heartland. The camp and festival grounds are surrounded by corn fields, barns, grain silos, and grazing livestock- a pastoral setting that will temporarily be rocked by 40,000 visitors who come seeking a weekend of brotherhood and high quality music in this peaceful, rural setting.
About Scully Entertainment, LLC: Patrick Scully is an Entertainment Specialist with a flair for putting the "Wow" into corporate and special events. As Founder and Creative Director of Scully Entertainment, he has produced hundreds of bold and imaginative shows for companies across Northern Illinois and is initiating one of the hottest showcasing festivals in North America.
About Freeport, IL: Freeport is a wonderful mix of old and new. Fortune 500 companies like Newell Rubbermaid occupy some of the oldest buildings downtown, while antique stores and mom-and-pop restaurants enjoy software developers as neighbours. Turn-of-the-century Victorian homes co-exist with modern facilities. Freeport boasts more than 800 acres of parks, a 36-hole golf course and driving range, nature preserve and center, boat rental operation, a skate park and an athletic complex. In the arts, Winneshiek Theatre is the country's oldest continuously running amateur theatre, and we're especially proud that Freeport High School has a Grammy Award Winning music program. Freeport is centrally located, 90 minutes from three airports and two hours from four major metropolitan areas.
The Production Team
A collection of the country's most successful festival producers form the SOPAM production team:
David Hogan: Operations Director of the Wannee Festival in Live Oak Florida, David is one of the industry's most well respected and successful festival operations guy. Almost solely responsible for growing Wannee into one the largest and most successful festivals in North America, David has more than 20 years experience in all elements of festival production. There is no detail too small, nor too complicated for David. He delivers a seamless, organized, quality production every time.
Fred Brennan: Known regionally and nationally as one of the most talented entertainment bookers of his generation, Fred is a walking encyclopaedia of music- of all genres, all decades and is a master of rock and roll trivia.
Spring boarding out of a 20-year radio career on-the-air and as a major market Program Director, Fred Brennan jumped into the deep end of directing, programming, and producing live entertainment in his hometown of Chicago. From 2001 to 2009, Fred's portfolio included programming and producing more than 25 festivals and 4 concert series annually; booking and handling over 6,000 bands in the process.
Since that time, his "soup to nuts" ethic with talent and production has been utilized by National Touring Clients, Concerts and Festivals around the country, and with Music Placement Firms for Film & Television, where he has been brought in to assist.
Purchase Tickets: Ticket Fly - http://www.ticketfly.com/
Press inquiries: spiritofpeaceandmusic(at)selectiveimageinc(dot)com
Selective Image Inc. // spiritofpeaceandmusic(at)selectiveimage(dot)com
Website: http://www.spiritofpeaceandmusicfestival.com
# # #