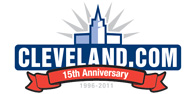 It's quite an honor to watch cleveland.com grow into what I feel has become a vital part of the fabric of our community and to watch how our users engage with the site.
Cleveland, OH (PRWEB) June 09, 2011
This month marks the 15th anniversary of cleveland.com, the online home of The Plain Dealer and Sun News. The site was launched by Advance Internet and was founded with a core mission and vision. cleveland.com was created to connect, inform and empower the people in its communities. That mission and vision have not changed.
Over the course of its 15 years, cleveland.com has grown to be Northeast Ohio's most popular news and information site with 3.8 million unique users per month*. Users can access real-time news and information and can gather to talk and engage about the stories and their communities. cleveland.com gives Northeast Ohioans an active platform to share what is important in their lives. Users can upload photos and video, create and maintain blogs, and comment on news stories.
"I have been at cleveland.com for the past 14 ½ years and although we look back fondly on how the site looked in June of 1996, it's almost unrecognizable today," said Denise Polverine, editor-in-chief of cleveland.com. "But even through countless design and presentation improvements and astounding advances in technology and content distribution, we remain committed to being the complete online destination and gathering place for people who call Northeast Ohio home. It's quite an honor to watch cleveland.com grow into what I feel has become a vital part of the fabric of our community and to watch how our users engage with the site. I can't wait to see where the next 15 years take us."
"The Plain Dealer celebrates our partnership with cleveland.com and the important role the website has played in delivering news and information to our readers," Plain Dealer editor Debra Adams Simmons said. "The Plain Dealer staff works hard each day to provide the most complete, up-to-date information to the cleveland.com audience in real time. We salute cleveland.com for 15 years of significant service to Northeast Ohio."
From a business perspective, cleveland.com has seen significant growth over its 15 years of existence. While beginning sales models allowed advertisers access to the public via small display ads on the site as well as text links, today's business model has expanded to include jobs, real estate and autos platforms, e-mail products, video, rich media, search engine marketing management and much more, allowing cleveland.com to serve as more of a digital agency for its customers.
"cleveland.com is part of this community. This is where we live and work," says Wayne Snow, General Manager of cleveland.com. "We hear from businesses and organizations time and again about how valuable a platform cleveland.com is for their advertising messages, and how we help them develop their digital strategies. From Fortune 500 companies to local independent businesses, we connect our clients to Northeast Ohio. I'm so proud to be associated with a company that is useful to the people and businesses in Northeast Ohio."
*Source: Omniture SiteCatalyst monthly average, November 2010 – April 2011
About cleveland.com
cleveland.com, an affiliate of Advance Internet, Inc., is the leading local website for news and information throughout Cleveland featuring the latest Cleveland news, business, sports, travel, weather, traffic, shopping and entertainment information. In addition, cleveland.com has a comprehensive business listings directory, as well as local classified listings for jobs, homes, apartment rentals and autos. cleveland.com is the online home of The Plain Dealer and Sun News.
About The Plain Dealer
The Plain Dealer is Ohio's largest newspaper and among the 20 largest newspapers in the country, reaching nearly 800,000 readers daily and nearly 1 million on Sundays. The Plain Dealer's media market, Greater Cleveland, is ranked No. 1 in the country for Sunday newspaper readership percentage (75 percent of total adults) and is No. 2 in daily newspaper readership percentage (62 percent of total adults), second only to the New York Times. The paper also has an electronic edition, and its content and related material can be found on cleveland.com. The Plain Dealer also operates Politifact Ohio, a website that analyzes political issues relevant to local interests.
About Advance Internet
Advance Internet, Inc., based in Jersey City, NJ, is a leading creator of highly interactive, online community-based news and information websites created in alliance with over 25 newspapers affiliated with Advance Publications, Inc. Advance Internet's websites are the number one local news and information online destinations for the markets they serve. The websites include al.com, cleveland.com, gulflive.com, MLive.com, NJ.com, NOLA.com, OregonLive.com, SILive.com, syracuse.com, MassLive.com, PennLive.com, and lehighvalleylive.com.
###