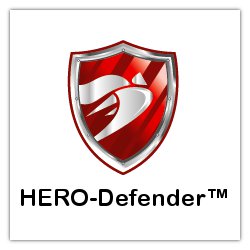 Not only do we have the fastest and easiest to use solution available today, but we have painstakingly worked with our partners and engineers to make sure we priced it right for companies of all sizes.
San Clemente, CA (PRWEB) June 15, 2011
HEROware™ (http://www.heroware.com), a leader in SMB backup and disaster recovery solutions, announced today the immediate availability of a new line of HERO-Defender unified server protection solutions. The series features the HERO-Defender onsite server replication appliance and the HERO-Cloud. These highly-scalable systems highlight not only data security, they bring to reality the ability to protect the total computing environment, including: servers running Microsoft operating systems, all applications, and both file server and desktop data stores. HERO-Defender coupled with HERO-Cloud not only provides disaster proof high availability with automatic failover, they also provide an easy Total Recovery in Minutes --the industry's fastest.
To support these solutions, HEROware offers a comprehensive maintenance and support package, with 24x7 US based support, including quick and easy setup, HEROware supported failback and free updates, specifically designed for small and mid-sized businesses (SMB).
The HERO-Defender and HERO-Cloud are part of the HEROware line of server protection and disaster recovery solutions. HEROware has combined state of the art replication technology with reliable, high-performance hardware creating a unified server protection solution with enterprise-grade features.
Key capabilities include real-time byte-level total server replication (OS, Apps, & Data), tapeless operation, quick and easy testing, automatic failover, world-wide server and data access, and HIPAA, SOX, and SEC compliant storage. These features surpass those offered by many enterprise, proprietary backup and disaster recovery vendors – at a fraction of the cost.
Traditionally, the high price associated with enterprise solutions has prevented SMB's from realizing the benefits of server replication versus file backup. These new solutions remove that limit, allowing businesses of all sizes to capitalize on cutting edge server protection strategies at affordable prices. SMBs are able to maintain business continuity and reduced downtime due to server and data loss, without the high price tag of enterprise solutions.
"Our solution is based on the idea that all customers, who frequently have constrained financial and personnel resources, should have access to disaster recovery solutions," said Fred Mayne, EVP of World Wide Sales at HEROware. "Not only do we have the fastest and easiest to use solution available today, but we have painstakingly worked with our partners and engineers to make sure we priced it right for companies of all sizes."
HERO-Defender Onsite Appliance
Appliance based and local, HERO-Defender offers four-points of Server, OS, Application, and Data protection using real-time replication and data protection with Total Recovery In Minutes™. Available in quiet desktop or space saving rack mount models, bundled with no-cost installation, free updates and 24x7 US based expert support.
HERO-Defender is the ideal solution for simple, unattended, total server protection with automatic failover in the event of a server failure
HERO-Cloud Remote Failover, File Backup and Secure Archive
Cloud based and always on, HERO-Cloud's triple solution of FILE, SERVER, and MAIL protection replicates your servers in real-time on a SAS 70 Tier 3 data center, securely archives emails for 7-years, and continuously backs up your server and desktop files while providing 24x7 file access via a simple to use web interface.

FILE-Cloud provides a total disaster recovery solution, with remote operation and full control of the replicated servers in the event of a local system failure. Email is securely stored on encrypted HIPAA, SOX, and SEC compliant data centers for 7-years.
SERVER-Cloud is the ultimate Disaster Recovery Solution providing a Real-Time copy of the entire server (OS, applications and files). The SERVER-Cloud® becomes the active server when a physical server is unavailable due to natural or other disasters.
MAIL-Cloud is one of the industry's safest and most reliable Enterprise email archiving & retrieval solutions, providing easy storage, retrieval and email monitoring at surprisingly affordable SMB prices with standards compliant archiving (HIPAA, SOX, FINRA, and DOD).
HERO-Defender Technology Advantage
HERO-Defender combines continuous real-time replication and automatic failover capabilities for disaster recovery, high availability, and centralized backup on physical or virtual Windows servers. HERO-Defender uses patented replication and failover capabilities that continuously capture byte-level changes as they occur and replicates those changes to another server either locally or over any WAN link.
HERO-Defender Maintenance Plan
To support these new HERO-Defender solutions, HEROware also announced HEROware Support, a comprehensive hardware/software maintenance and support plan designed to give system administrators everything they need to fully-utilize their server protection solution. HEROware Support is available with all HERO-Defender system orders, and will cover full replacement of the item or a complete unit if needed and cross-shipping of items at the expense of HEROware, including Tier 1 email and phone support from HEROware's US-Based helpdesk and next-business-day advanced cross-shipment of failed components
"We are excited to offer HERO-Defender, HERO-Cloud and HEROware Support to our customers. These solutions provide all the features and benefits of enterprise solutions, without the complexity and enterprise price. Backed by our worldwide partner network, these solutions offer a whole new level of business continuity for SMB's, allowing them the same confidence and peace of mind previously available only to large organizations," said Lynn Shourds, President, CTO, and co-founder of HEROware.
Availability & Pricing
The HERO-Defender appliance is available directly from HEROware's world-wide distribution network. Additionally, HEROware offers a unique "Rent-To-Own" program, with affordable monthly payments.
To request a free online demo or try our exclusive 30-day no risk "Try & Buy" program, please visit HERO-Defender Live Demo
About HEROware™
In 2008, HEROware, began a journey to revolutionize the Backup & Disaster Recovery (BDR) industry by creating an SMB solution with Enterprise features. Built upon a rock-solid Intel® hardware platform and Double-Take® Software's state of the art, award winning, patented replication technology for Microsoft SBS and Windows Server, HERO-Defender is the first and only appliance-based BDR solution that provides continuous, Real-Time Byte Level Replication with Total Recovery In Minutes™. Microsoft Windows Server clients receive unparalleled business continuity via 24x7x365 primary (on-site) and secondary (cloud-based) total server protection including flawless backup and data recovery.
###