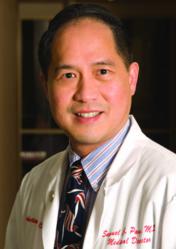 "There is no reason for a gay couple to be refused assisted reproduction medical services simply because they are gay."
Boston, MA (PRWEB) June 10, 2011
For decades it's been common for lesbian couples to get pregnant via alternative insemination using donor sperm. Gay men who want to have children, on the other hand, have typically relied on adoption, often overseas with one partner posing as straight and single rather than a gay man.
But more gay couples are learning that it is possible to have their own biologically related children through the use of egg donors and gestational surrogates.
In 1998, Dr. Samuel Pang, medical director at the Reproductive Science Center of New England (RSC New England), was the first Reproductive Endocrinologist in the region to facilitate the in vitro fertilization (IVF) process for a gay male couple. He did so after the couple had been refused services by another medical provider. They were turned away presumably because they were gay. As it turns out, prejudice or simply lack of insight among many medical professionals, often prevents gay couples from having the opportunity to father biologically related children.
In 2004, the Supreme Judicial Court of Massachusetts ruled that same-sex couples had the right to be legally married in the Commonwealth (HILLARY GOODRIDGE & others vs. DEPARTMENT OF PUBLIC HEALTH & another; 440 Mass. 309; March 4, 2003 - November 18, 2003, Suffolk County). That year, just like millions of other newlyweds, Eric and Tim decided that they wanted to start a family.
"I did a lot of homework to find the best solution for us," explains Eric. Their preference was IVF using their sperm to inseminate donor eggs and create an embryo that is transferred to and carried to term by a surrogate.
They first approached the assisted reproduction program associated with the Boston hospital at which Eric was a physician. "We were told that they had never worked with a male couple and would have to present our 'case' to the hospital ethics board," says Eric.
Needless to say, they did not feel welcomed. Going back to the drawing board, they learned about RSC New England and Dr. Pang. The couple's IVF treatment through RSC New England resulted in the birth of a baby boy in the summer of 2006.
"There is no reason for a gay couple to be refused assisted reproduction services simply because they are gay," states Dr. Pang. "At RSC New England, we apply standard screening procedures for any couple conceiving a child through the use of donor eggs and a gestational surrogate, whether the couple is gay or straight."
RSC New England has provided IVF services for just under 20 male couples including several from South America and Europe. Some couples have come back to the Center for second and even third pregnancies.
IVF for gay couples is very successful, but can be costly. Sexual orientation has no bearing on the medical and medication fees, which are about $15,000 per cycle. Compensation, legal fees and expenses for an egg donor range from $10,000 to $15,000, and for a surrogate from $40,000 to $60,000.
Fees to address certain legal considerations can add substantially to overall cost. For example, a gay couple can be uniquely impacted by the fact that several states ban surrogacy and courts may rule in favor of a surrogate if she wants to keep a baby. Gay couples also need to address other legal issues such as state laws regarding second-parent adoptions and names that appear on a birth certificate. There are, however, law practices that have begun to specialize in handling these issues for gay (and lesbian) couples.
RSC New England has a dedicated website (http://www.GayIVF.com) for gay men and lesbians who plan to use assisted reproduction to build their families. The Center supports numerous family oriented gay and lesbian advocacy organizations and is an active participant in educational events in and around the Boston area. "As we speak to increasing numbers of young gay men, especially, who intend to have biologically related children, we suggest that they include assisted reproduction costs in their long-term financial planning, just as they would if they intend to buy a home at some point," explains Dr. Pang.
As the father of two boys himself, and as a reproductive medicine specialist, Dr. Pang is well acquainted with the joy and challenges that come with conception and parenting. "The desire to be a parent is an integral aspect of human nature for most of us. It is not exclusive to heterosexual couples. At RSC New England, we specialize in helping people become parents. My clinical staff and I are proud of the help we provide to everyone, regardless of sexual orientation."
Founded in 1988, the Reproductive Science Center of New England provides comprehensive diagnostic testing, evaluation, consultation and treatment for infertility. Assisted reproductive technology services are also provided to same-sex couples.
###