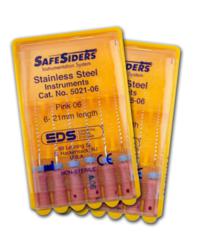 Now it's easier to start the intrumentation of smaller, tighter, or calcified canals!
South Hackensack, NJ (PRWEB) June 11, 2011
Essential Dental Systems, Inc. (EDS) announces the introduction of a new size 06 tapered SafeSiders instrument line. This new instrument in size 06 was developed to better suit the needs of both general dentists and endodontists who sometimes encounter smaller canals.
The new 06 tapered SafeSiders instrument should be used in smaller, tighter, or calcified canals that require a smaller instrument to gain initial access to the apex in the beginning of endodontic instrumentation. The new instruments, like all SafeSiders can be used by hand or in the Endo-Express® reciprocating handpiece. Establishing an accurate glidepath is essential in performing superior endodontic instrumentation. The new 06 SafeSiders instrument are available in 21mm and 25mm lengths to suit the needs of dentists and patients.
The new SafeSiders instruments are available immediately and can be ordered through dental dealers in the US, Canada, and throughout the world. For more information on this amazing product, contact Victoria Reina, Sales & Marketing Manager at (201) 487-9090.
###