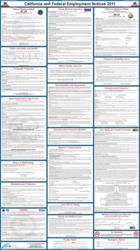 State and Federal Poster, Inc. provide the best service and most compliant labor law posters in the nation.
Los Angeles, CA (PRWEB) June 11, 2011
Human resource managers should be aware of all labor posting updates as soon as it is released to the public. Before you purchase your new labor law posters for the year, be sure that they are laminated, that they are the most current and compliant with the law.
Businesses should also carry safety posters next to labor law posters if their are any safety hazards that need to be addressed that is not in the safety policy of the company manual. This will insure all employees are well aware of their rights and safety issues that might occur.
Companies that have forklifts for example must carry forklift posters to instruct their employees of the company's safety policy. If an employee is injured, this will help prevent some liability issues that might arise in the court that the company was being negligent in safety training.
The changes for this year:
California and Florida labor law posters have changed twice. California labor law posters have changed their Family Medical Leave Act and Pregnancy Leave act laws within the last 3 months. Florida change changed their minimum wage from $7.25 to $7.31 per hour. The workers compensation has also changed the "If you are injured on the job", "Anti-Fraud Reward Program", and "Description of Workers' Compensation" sections of the notice.
Labor law posters and safety posters however cannot replace a company manual that all corporations should have. All companies have different ideas of safety, the posters will supplement greatly.
###