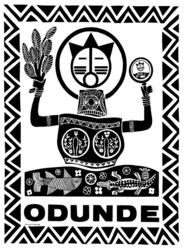 Philadelphia, PA (PRWEB) June 09, 2011
As part of the 36th Annual ODUNDE Festival, a four-day-long African and African-American cultural event whose programs reach audiences of more than 500,000 persons, organizers will host a free, one-hour-long Zumba® fitness class, hoping to break the Guinness World Record with more than 1,500 expected participants.
Clemson University, as recently as May 16, 2011, holds the title for Largest Zumba® Fittness Class with an estimated 1,294 people having participated.
On-site registration begins at 9:00am, with class beginning at 10:00am, on Saturday, June 11, at Finnesey Field, located on the Saint Joseph's University campus. Local dance and Zumba® instructor Jena Renee Rogers of P.U.S.H. (Push Until Success Happens) will teach participants dance moves and steps. Participants must be 16 years of age or older and will receive a free, commemorative t-shirt to mark the celebration.
Individuals interested in participating can pre-register for the event by visiting http://www.odundefestival.org or calling 1-888-765-9569. Buses are available to transport attendees to the facility; pick-up and drop-off locations can also be found by visiting the website.
Zumba® is a dance fitness program created by dancer and choreographer Alberto "Beto" Perez, in Colombia, during the 1990's. The program combines international music, including salsa, meringue, cumbia and reggaeton, with dance, in an effort to make exercise fun. Since its inception into the mainstream, the Zumba® program has grown to become the world's largest – and most successful – dance-fitness program, with more than 12 million people participating in weekly classes in 110,000 locations, spanning more than 125 countries.
The ODUNDE festival, has gained a national reputation as one of Philadelphia's brightest cultural jewels. The word ODUNDE originates with the Yoruba people of Nigeria, West Africa, and means "Happy New Year." The annual festival is an occasion marked by joy and hope. On the final day of the celebration, attendees make a colorful procession to the Schuylkill River where offerings of fruits and flowers are made to Oshun, the Yoruba Goddess of the River. After the procession to the river, the African New Year celebration begins with a variety of vendors, craftspeople, artists and performers.
Keystone Mercy Health Plan, the largest Medicaid managed care organization in Pennsylvania, is lead sponsor of this event.
WHO:

Oshunbumi Fernandez, president and CEO, ODUNDE Inc.
Michael Rashid, president and CEO, AmeriHealth Mercy Family of Companies, of which Keystone Mercy Health Plan is a member
Maria Pajil Battle, senior vice president, Marketing and Public Affairs, Keystone Mercy Health Plan
Jena Renee Rogers, Zumba® Instructor, P.U.S.H. (Pursue Until Success Happens)
More than 1,500 expected Zumba® fitness class participants from the Greater Philadelphia Region
WHEN:
Saturday, June 11, 2011
Registration: 9:00am – 10:00am
Fitness Class: 10:00am – 11:00am
WHERE:
Finnesey Field- Saint Joseph's University
5400 N City Avenue
Philadelphia, PA
###