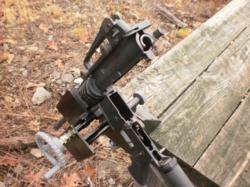 Huntington Station, NY (PRWEB) June 12, 2011
The Armorer's Vise (http://www.hyskore.com) securely grips either the upper receiver or the butt stock section of the rifle. The vise assembly rotates 360° on a horizontal axis that can adjust to a wide range of angles. This way the upper receiver can be angled downward so that all cleaning gunk and debris run out the muzzle and not into the action or trigger group. For all guns, including rifles and shotguns the barrel can be effectively cleaned from the breech, which is always recommended.
"The advantage… is that the rifle is held in place while you're running the cleaning rod back and forth. There is no juggling around while trying to simultaneously hold the rifle, manipulate the rod, getting patches on, trying not to spill that big…glass bottle of cleaning solution, etc. The cleaning process becomes a lot easier when the rifle is held in place in a fixture."
Tod Spotti, published in the IHMSA News
"Sometimes the simplest devices are the handiest. That certainly holds true with the Portable Armorer's Vise from Hyskore.
The Portable Armorer's Vise breaks all the rules. It's certainly very sturdy and it does have some "heft" to it but it's also very easily portable.
Best of all, it rotates 360° so guns can be held at any angle for cleaning, scope mounting or maintenance. It's also padded so that it takes good care of your gun while you're working on it. A portable vise that just works just like one in your shop." Clark Bush http://allaboutshooting.com/article_info.php?articles_id=479
"The Hyskore Portable weapon vise is a great tool that can be transported to your shooting location. It is a sturdy vise and has smooth operation. I have used this vise a few times already working on my AR15 at the range and it definitely makes things a lot easier. Whether it be detailed cleaning of your weapon or building a AR15 from the ground up a vise is definitely a must have tool. With this vise you can store it away when finished so it doesn't take up all the space on your bench. This vise is definitely a "GO". Chris Watkins http://www.gunn-fighter.com/hyskore-portable-gun-vise.html
The vise has an almost unlimited range of functional adjustments. The base can be clamped to the bench top with the 2 heavy duty turn bolts or it can be permanently lagged into place. The vise is also perfect for mounting a rifle scope or performing a wide range of other gun maintenance activities on almost any firearm. Although designed with the increasingly popular AR15 in mind, the Portable Armorer's Vise easily adapts to all pump, semi-auto, bolt and lever action rifles and shotguns. Whether you are hunting the back forty, going to the shooting range, or on a safari the Portable Armorer's Vise is the perfect firearms maintenance accessory.
A full range of long gun and handgun maintenance and shooting accessories including compression dampened recoil attenuating shooting and tactical / varmint rests is available from HYSKORE® . The line up consists of the DLX Precision Sighting Rest, the Dangerous Game® Machine Rest, the Ten Ring® Shooting & Varmint Rest, the Dead Eye® Tactical & Varmint Rest, the Parallax Cleaning and Sighting Rest, and the Black Gun® Machine Rest. These are all fully supported on the HYSKORE® .com website with instruction manuals, target down loads, and both demo and tutorial videos. Most importantly, these advanced shooting accessories are affordable to the average shooter.
About HYSKORE®
HYSKORE® is a registered trademark of Power Aisle, Inc. (Est. 1988) of Huntington Station, New York 11746, 631/673-5975. HYSKORE® manufactures a proprietary line of advanced, purpose built, tactical and sport shooting accessories including shooting rests, multi-function electronic hearing protection, pistol rests, pistol racks and sundry accessories. HYSKORE® products are available at numerous retailers including: Cabelas http://www.cabelas.com, BassPro , Sportsman's Guide http://www.sportsmansguide.com, Cheaper Than Dirt, http://www.cheaperthandirt.com, Brownells , and Midway USA http://www.midwayusa.com.
# # #