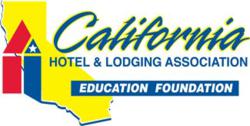 Sacramento, CA (PRWEB) June 13, 2011
The California Hotel & Lodging Association Education Foundation (CH&LAEF) announced eleven scholarship award recipients. These scholarships, along with the sponsorship of the Hospitality Conference geared towards students' continued education in the hospitality industry, total $19,000 for this year. This assistance is provided through generous industry supporters, who firmly believe in the development of the next generation of the hospitality industry.
The award winners of these scholarships are exemplary students and an asset to our industry. This year's winners come from the California State Polytechnic University, Pomona, San Diego State University, University of San Francisco and San Francisco State University.
The recipients of this year's CH&LA scholarships are:
Amy Boren
Marielle Croudo
Christopher Delfs
Taylor Fry
Katherine Hammon
Alyssa Hird
Jutarat Pagdeerugeerat
Alex Siu
Jessica Stern
Ariel Weinshanker
Taylor Woodley
In addition to these scholarships, CH&LAEF also supports the annual Hospitality Conference, where students from high school hospitality programs are provided with information, hands-on tours, and a better understanding of career opportunities in the industry. CH&LA's Education Foundation is also involved in the continued education of the industry, teachers and instructors of hospitality programs.
For more information or to make a contribution, visit the CH&LA Education Foundation webpage or contact CH&LAEF by calling Susan Ragatz, CH&LA's Education Director at (916) 554-2678.
About CH&LA
The California Hotel & Lodging Association (CH&LA) is the largest state lodging industry association in the nation and a Partner State Association of the American Hotel & Lodging Association. Its members include all segments of the lodging industry including the California Association of Bed & Breakfast Inns - California's largest association of professional innkeepers and certified bed and breakfast inns. CH&LA is the leading resource for communicating and protecting the rights and interests of the California lodging industry. CH&LA was established in 1893. CH&LA is on the web at http://www.calodging.com.
# # #