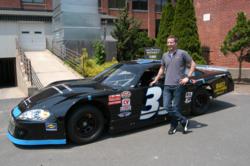 ". . .when we heard about the Bisson family, we realized that winning races could mean more than trophies. Thanks to the support from Siemon, Competition Auto Supply, River Mud and ALL IN, we can make a real difference for the Bissons."

Watertown, CT (PRWEB) June 09, 2011
Peter Thickett of Watertown, CT today announced that he will race in the 2011 NASCAR Late Model Division series at Stafford Springs Motor Speedway. Although this is the young driver's rookie season in NASCAR, he comes to the series with an extensive road racing background in his native England and expects to have a very competitive season.
But there's more to this than racing. Thickett has very generously volunteered to donate 100% of his winnings for the upcoming season to benefit the Bisson family of Waterbury, CT - victims of a fire that destroyed their home and left their father critically burned. So, when Thickett wins, the Bisson family wins.
The Competition Auto Supply team's "Racing for the Bisson Family" effort has also received sponsorship support from local businesses, including The Siemon Company of Watertown, a global leader in high-performance network cabling solutions (http://www.siemon.com) and Competition Auto Supply, a Watertown-based online retailer of performance auto parts and tools (http://www.competitionautosupply.com).
Even some rock bands have stepped up to help the "Racing for the Bisson Family" effort. On Sunday, July 10th, from 2-8 p.m., local bands River Mud and ALL IN are hosting a fund-raising event for team at City Limits Cafe in Waterbury. A donation of $10 at the door helps ensure that every checkered flag is a victory for a family in need. For more information on this fundraiser, call 203-903-4MUD (4683), e-mail rivermud(at)comcast(dot)net or visit http://www.rivermud.com.
"Like any race team, we're approaching this season with the goal of winning races," explained Thickett. "But when we heard about the Bisson family, we realized that winning could mean more than trophies. Thanks to the support from Siemon, Competition Auto Supply, River Mud and ALL IN, we can make a real difference for the Bissons."
For more information on the team and its sponsors visit:
Team overview: http://www.competitionautosupply.com/racing.aspx
The Siemon Company: http://www.siemon.com/
Competition Auto Supply: http://www.competitionautosupply.com/
River Mud: http://www.rivermud.com/
ALL IN: http://www.allinband.com
Stafford Motor Speedway: http://www.staffordmotorspeedway.com/
###