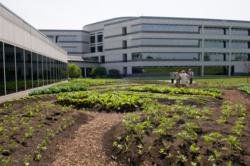 Working on this garden represents a new beginning and future for me. Edwin Quezada
Glencoe, IL (PRWEB) June 13, 2011
Kraft Foods, in collaboration with the Chicago Botanic Garden, today announced a partnership to build and maintain a three-season, sustainably-grown vegetable garden at Kraft Foods headquarters in Northfield, IL. The 8,000-square-foot garden is expected to yield 14,000 pounds of food, equivalent to 28,000 meals. All food will be donated to local agencies, including soup kitchens and food pantries in the networks of Great Chicago Food Depository and the Northern Illinois Food Bank and to Woman, Infant and Children (WIC) centers in Cook and Lake Counties, part of Kraft Foods mission to fight hunger locally, regionally and globally.
The Kraft Foods Garden has been installed and will be maintained by the Chicago Botanic Gardens' Windy City Harvest (WCH) program. WCH is a nine-month skills training and job placement program; participants enroll at Daley College/AVI (City Colleges of Chicago) and earn an advanced continuing education certificate in sustainable horticulture and urban agriculture, the only program of its kind to have been approved by the Illinois Community College Board under the Workforce Investment Act. In 2009, WCH partnered with Cook County Boot Camp to create a 50-bed extended season garden which provides extended educational, rehabilitation and vocational training opportunities for non-violent offenders reentering society.
Three Cook County Boot Camp graduates, working as transitional Chicago Botanic Garden employees, will be part of the Kraft Garden maintenance crew. A WCH graduate will supervise.
Kraft employees will volunteer in the garden. Windy City Harvest staff will be teaching a series of gardening classes to Kraft employees. Topics include sustainable gardening, small garden how-to's, seed starting for cool season crops and building healthy soil.
This is the first initiative undertaken by Kraft Foods at corporate campus and first corporate garden designed by Chicago Botanic Garden.
###