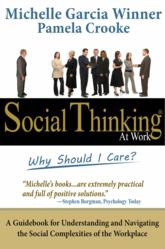 Winner and Crooke help decode the workplace in ways that are respectful, insightful
and empowering.
(PRWEB) June 13, 2011
In the groundbreaking book, "Social Thinking At Work: Why Should I Care?", Michelle Garcia Winner and Pamela Crooke describe the inner workings of the social mind in the workplace and decode the hidden rules of the social world by explaining how we think about our own, as well as other people's thoughts and emotions.
"In school, mastery of subject leads to positive results In the work world, mastering only the content of a job without mastering social skills can lead to a dead end, a demotion or even a firing. This book provides clear strategies along with plenty of examples for mastering those social skills. Winner and Crooke take complex social situations and distill them down to their essence. Often, the essence is something that is never even spoken. Years could be spent discerning social strategies that can be learned within a few hours from reading this book."
-- A recent reader who benefited from the book
"Michelle's books are extremely practical and full of powerful solutions."
-- Stephen Borgman, Psychology Today
The book is available through bookstores including amazon.com http://www.amazon.com/Social-Thinking-At-Work-Should/dp/0884272036/ref=sr_1_1?ie=UTF8&qid=1307717932&sr=8-1
For more information on Michelle Garcia Winner and Social Thinking concepts http://www.socialthinking.com
Contact: Amy Gallagher
North River Press
(413) 528-0034
http://www.northriverpress.com
# # #