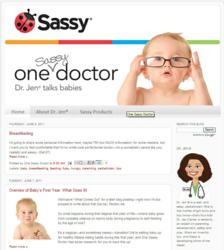 Grand Rapids, MI (PRWEB) June 13, 2011
Sassy Baby, Inc. (http://www.sassybaby.com), a subsidiary of KID Brands Inc. (NYSE: KID), has partnered with double board certified pediatrician, author, educator and mother, Dr. Jen Canter, also known as "Dr. Jen®". Each week on the One Sassy Doctor blog, http://onesassydoctor.blogspot.com, Dr. Jen will share personal stories, developmental topics and exciting ideas of how to interact with baby.
"Sassy is very excited to have an opportunity to partner with such a well-respected and multifaceted expert as Dr. Jen," said Rick Schaub, President of Sassy. "Leveraging her credibility as a mom and pediatrician, we know she will lend the very best information and knowledge available for children and families."
Sassy will have exclusive use of the Dr. Jen® trademark in the 0-2 year old developmental toy, bathing and feeding apparatus categories.
"Our favorite baby toys were Sassy products, I was always a fan of the Sassy's developmental focus," said Dr. Jen. "Ironically, I happen to be a bit SASSY myself! Being a mother of two sets of twins, and a pediatrician with a focus in child abuse and neglect, I am especially inspired to use the One Sassy Doctor platform to educate parents of young children about various aspects of child development, safety, and ways play can infiltrate parenting and family life. I'm throwing in a few silly stories and fun recipes, too!"
Sassy, Inc. will also be adapting the U-Play Mat®, invented by Dr. Jen®, into various applications for children ages 0-2 in the mass-market developmental toy category. Dr. Jen® will serve as a media presence and pediatric consultant for Sassy with intended use of the Dr. Jen® trademark on selected products, including additional Dr. Jen® inventions.
About Dr. Jen Canter
Dr. Jen Canter, aka "Dr. Jen®" is a double board certified pediatrician, professor, researcher, published author, and, last but not least, mom to two sets of twins. In all her spare time, she's an entrepreneur! In 2008 she invented the U-Play Mat®, now licensed by Sassy, Inc. for the mass-market baby toy category, and started a fun & cool adventure. Dr. Jen believes play can permeate every aspect of parenthood, from exercising and eating well to using love and laughter to raise happy, well-adjusted little people who can tackle anything life hands to them with creativity & self-assurance. Dr. Jen chronicles her journey as a professional and a mom, while at the same time sharing her hard-earned wisdom with warmth, wit and a healthy dose of humor. Because she understands the darker side of parenthood as one of a handful of Child Abuse Pediatricians nationwide, Dr. Jen is committed to leading a life filled with light & balance. Dr. Jen loves Twitter – follow her @PLAYTHISWAY.
About Sassy, Inc.
Founded in 1982, Sassy operates out of Kentwood, MI. Sassy enjoys distribution in all major trade channels, including mass-market retailers, food chains, drug stores, catalogs, and independent baby and toy stores in the United States. In addition, Sassy products can be found in 29 countries worldwide. Sassy's extensive product categories have grown to include developmental and attachable toys, infant and toddler bath and feeding products, grooming and hygiene products, teething products and room organization. Sassy products are known for innovation, fashion and fun, the company has a long history of partnerships with experts in the field of child and growth development.
About Kid Brands, Inc. (Sassy's parent company)
Kid Brands, Inc. (NYSE: KID) and its subsidiaries are leaders in the design, development and distribution of primarily infant and juvenile branded products. Its design-led products are primarily distributed through mass market, baby super stores, specialty, food, drug, independent and e-commerce retailers worldwide.
The Company's operating business is composed of four wholly-owned subsidiaries: Kids Line, LLC; LaJobi, Inc; Sassy, Inc.; and CoCaLo, Inc. Through these subsidiaries, the Company designs and markets branded infant and juvenile products in a number of complementary categories including, among others: infant bedding and related nursery accessories and décor, food preparation and nursery appliances, and diaper bags (Kids Line® and CoCaLo®); nursery furniture and related products (LaJobi®); and developmental toys and feeding, bath and baby care items with features that address the various stages of an infant's early years (Sassy®). In addition to the Company's branded products, the Company also markets certain categories of products under various licenses, including Carter's®, Disney®, Graco® and Serta®. Additional information about the Company is available at http://www.kidbrandsinc.com.
# # #