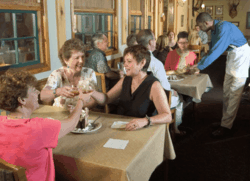 Even in today's fierce restaurant environment, independent restaurants can not only survive, but also, thrive!
Greenville, SC (PRWEB) June 14, 2011
The recession is putting a tight squeeze on independent restaurant owners. Food and beverage costs have continued to rise but, restaurants are reluctant to raise their menu prices when people are barely holding on to or losing their jobs. So, without the ability to pass on the higher costs, independent restaurant owners are finding every penny squeezed into even lower overall profits.
In order to make up the difference from the dwindling traffic and the higher costs, restaurant owners find themselves working even more hours to a point of diminishing returns. They are working harder and harder...while less and less come in.
A coach to independent restaurateurs as well as the 17 year owner of Saskatoon: Steaks, Fish and Wild Game in Greenville, SC, Edmund Woo, says, "As a result, the majority of independent restaurant owners end up with no personal life to speak of, a family life in disarray, working like dogs, on call 24 hours a day, 7 days a week, working weeks and weekends, and slaves to their restaurants!"
The author of "The 5 Hour Restaurant Work Week: Work Less, Make More and Have a Life, too", Edmund Woo dispenses free business-building advice for independent restaurateurs through his online blog, http://5hourrestaurantmarketing.com/. The free service details Edmund Woo's researched and refined restaurant marketing plan proven to get new restaurant customers. Edmund Woo's blog is becoming a weekly diet to help independent restaurateurs avoid starvation and cultivate growth.
Besides his restaurant specific marketing blog, Edmund Woo offers a free audio Report called, "Independent Restaurant Marketing and Work Less Hours Secrets" a glimpse of what his 5 Hour Restaurant Work Week System offers at http://www.independentrestaurantmarketing.net.
Updates to his blog appear weekly, and it is a free service to independent restaurateurs. This blog serves up solid advice for restaurateurs including how-to strategies for attracting new customers as well as building repeat business, building systems that will allow the restaurant to operate efficiently without the owner's presence, hiring and training staff to develop great "hospitality" experiences and much more to build their restaurant business.
In addition to Edmund Woo's blog, http://5hourrestaurantmarketing.com/, he coaches restaurateurs by way of his 5 Hour Restaurant Work Week System, a step-by-step system for running and prospering in the independent restaurant business. The only resource of its kind, the 5 Hour Restaurant Work Week System provides several comprehensive manuals and a CD/DVD training course.
Edmund Woo's dream of helping independent restaurateurs build their businesses is fast-becoming a lifeline for restaurateurs. "After years of struggling to get new customers, taking bad advice from friends and even other restaurateurs, and spending thousands of dollars to learn effective marketing, I refined the solution to create a New Customer Marketing System on Autopilot," he states.
Edmund offers free marketing advice and proven business-building strategies almost daily. "In this sluggish economy," Edmund explains, "it's a no-brainer to sign up for the email updates I offer. It's a tough market for everyone, but I feel good knowing I'm helping thousands of restaurateurs stay in business. Sometimes a restaurateur can change their entire business just implementing a restaurant marketing idea that I give him," he says.
Edmund's client, Thomas Cabaniss, CEO of Zebra Dazzle, the creative group, states, "Edmund personalizes his marketing strategies which makes me, the customer, want to return to his restaurant frequently. If you are hungry for more success, I strongly recommend you seek out Edmund's knowledge."
Some of the most popular recent blog postings include:

Hospitality versus Service
Use Social Media to Attract Customers
Should restaurants offer coupons to build business?
Marketing Special Occasions Birthdays?
Building Your Reputation with PR, Marketing and Advertising
Read these and more at the Independent Restaurant Marketing blog: http://5hourrestaurantmarketing.com
###