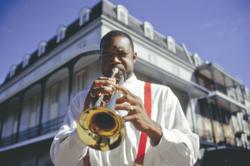 From casual listeners to hard-core aficionados, there is much to do and enjoy during a jazz-themed New Orleans vacation.
Norwalk, CT (PRWEB) June 20, 2011
A brand new New Orleans vacation offered by the travel company Tauck in partnership with the filmmaker Ken Burns is offering the ultimate travel experience for jazz fans. In his award-winning documentary "Jazz," Burns invoked the image of gumbo, the signature dish of New Orleans, to highlight the combination of elements that led to the birth of jazz. Besides being a great metaphor, Burns's comparison highlights the inseparable link between jazz and New Orleans. Guests attending the one-time Tauck-Ken Burns jazz event (October 5 – 9, 2011) will explore New Orleans' rich and historic connection with jazz when they:
Listen To Live Music
Some of the city's best live jazz can often be heard in the clubs and bars on and around Frenchmen Street in the Faubourg Marigny section of town. Within one three-block area, over a dozen different venues typically offer live performances.
Visit Congo Square
Located inside Louis Armstrong Park near the French Quarter, Congo Square was a place where slaves were allowed to gather on Sundays in antebellum New Orleans. The gatherings, featuring dance and music, helped preserve African musical traditions that later contributed heavily to the birth of jazz.
Attend A Performance At Preservation Hall
Built as a private home in 1750, Preservation Hall was opened in 1961 to protect and promote traditional New Orleans jazz. No New Orleans vacation is complete without attending one of the Hall's nightly jazz performances.
Enjoy A Jazz Brunch
New Orleans is also famous for its incredible cuisine, and a jazz brunch is the perfect way to satisfy an appetite for both food and live music. Two of the city's very best jazz brunches can be found at local institutions Arnaud's (Rue Bienville) and The Court of Two Sisters (Royal Street).
Take A Walking Tour
The National Park Service offers two free jazz walking tours, each pairing an illustrated map with audio commentary that can be downloaded to your iPod. An 11-stop tour highlights Congo Square and other important sites in New Orleans, and a Jazz Walk of Fame tour in Algiers Point (a ferry ride across the Mississippi) honors over a dozen influential jazz figures. The Park Service also offers a number of other programs locally.
Visit The Old U.S. Mint
A former U.S. and Confederate Mint, the Old U.S. Mint on Esplanade Street is today part of the Louisiana State Museum. The museum's "New Orleans Jazz" exhibit features instruments (many played by significant jazz musicians) and other items chronicling the history of jazz in New Orleans.
Meet Ken Burns And Enjoy A Five-Day VIP Experience
Perhaps the ultimate New Orleans vacation is being offered by Tauck, the leader in premium-quality tours and cruises, in partnership with the filmmaker Ken Burns, whose 10-part series "Jazz" received five Emmy nominations. Those attending the five-day VIP jazz event (October 5 – 9, 2011) will personally meet Ken Burns and enjoy experiences including private performances by Ellis Marsalis and other musicians, a private concert at Preservation Hall, exclusive lectures from Burns and other experts, a jazz brunch at The Court of Two Sisters, a jazz dinner cruise aboard the steamboat Natchez, and much more. Virtually everything is included in the price, from airport transfers to accommodations at the luxury Ritz-Carlton.
###