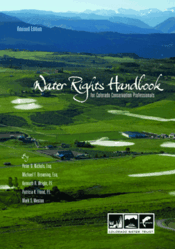 Use it or Lose it
Denver, CO (PRWEB) June 14, 2011
The "Water Rights Handbook for Colorado Conservation Professionals" provides essential information on water rights from the most fundamental principles of water law, to conducting due diligence investigations on water rights, appraising water rights for conservation easements, drafting conservation easement deeds to include water rights, carrying out water rights stewardship, and protecting instream flows. This book explains how to deal with water rights critical to the conservation values targeted in conservation transactions.
The Revised Edition explains how to perform "proper due diligence" on water rights, a new legal requirement for certification by the Colorado Division of Real Estate to accept conservation easement donations for which a state tax credit is claimed. The new edition also describes how conservation organizations should deal with water rights that appear on the State's 2010 abandonment list to prevent their permanent loss. And a new chapter addresses the protection of instream flows, an essential component of ecosystem health that is often necessary to meet environmental goals.
Written and reviewed by experienced water and conservation attorneys, engineers, and appraisers, this handbook provides valuable information for land conservation professionals to sensibly evaluate, encumber, and protect the water resources necessary to preserve conservation values and to meet federal and state legal requirements for conservation easements.
About Bradford Publishing Co.
Founded in 1881, Bradford Publishing Company is Colorado's oldest and most trusted publisher of legal information, including legal forms, electronic legal forms, law books, and statutes. Located in Denver's historic LoDo district, Bradford Publishing provides legal forms and reference materials on a variety of legal topics for attorneys, other professionals, and consumers.
Our commitment to quality is the cornerstone of Bradford's business philosophy and we regularly update the content of our books and other publications, so you can rely on the most accurate and current information available.
###