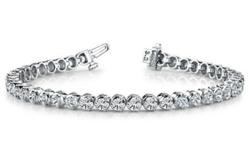 (PRWEB) June 10, 2011
Online jeweler Anjolee launched a blog last year that has become a leading source of information about jewelry education, birthstone information, and Anjolee product reviews. A complete review of all new jewelry items are announced on the blog as they happen, so news about Anjolee is always current.
Recently, a lot of new bridal rings and bracelet designs were announced on the blog including new gemstone diamond bracelets, classic diamond tennis bracelet designs, vintage tennis bracelets and matching bridal sets. In addition to the largest selection of diamond tennis bracelets online, Anjolee offers a huge selection of diamond earrings, diamond necklaces and wedding and bridal rings. Wedding and bridal ring collection expanded to offer a large amount of gemstone rings, anniversary rings, eternity bands, diamond engagement rings and complete bridal sets.
Customers enjoy the ability to select any of Anjolee's diamond bracelet designs, and customize it according to their personal preferences. Choices for customization include metal type (gold or platinum), variety of gold karats (10k, 14k, and 18k), diamond qualities (color and clarity), gemstone type, carat size and length. Whether it is a tennis bracelet for work or play, Anjolee's selection has something for every style.
The blog is not only about showcasing fine jewelry products and jewelry education; it is also about Jewelry advice: The Anjolee blog is monitored by a team of their industry experts who are available for product questions, style suggestions or general jewelry buying advice. Readers are encouraged to ask a question on the jewelry blog. Common questions about bracelets include tips for buying a diamond bracelet and style suggestions for which of the tennis bracelets are most popular. Classic, vintage, red carpet, gemstone and solid gold or platinum bracelets are different and can appeal to different occasions. Asking the advice of an experienced jewelry adviser is helpful when it comes to selecting the right one.
What to expect -
Questions about differences between metal types, diamond quality clarification, distinguishing the model carat weight versus the effective carat weight on an item, and accurate sizing of rings and bracelets. are just a few examples of the information you will find on the blog.
Specials and Deals -
Any seasonal promotions are announced on the blog and on the company's Facebook account. Stay in touch with Anjolee in a variety of ways for an enhanced jewelry buying process.
###