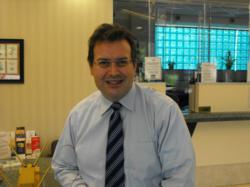 Everyone should be aware of the red flags associated with medical ID theft.
New York, NY (PRWEB) June 14, 2011
Victory State Bank is alerting business owners and consumers to the growing threat of medical identity theft.
"Because this type of thievery can impact your health, as well as your finances, it's important to recognize the warning signs," said Ralph M. Branca, CEO and president of Victory State Bank.
According to the Federal Trade Commission, every time a thief uses your identity to get care, a record is created with the imposter's medical information that could be mistaken for your medical information.
"This could include misinformation in your medical history ranging from the wrong blood type to inaccurate allergy data. In the worse scenario, the results could be deadly," said Branca, who heads Staten Island's only community-based commercial bank.
"Everyone should be aware of the red flags associated with medical ID theft," Branca said. "The FTC suggests you alert authorities if you get a bill for medical services you didn't receive; a debt collector contacts you about medical debt you don't owe; you order a copy of your credit report and see medical collection notices you don't recognize; you try to make a legitimate insurance claim and your health plan says you've reached your limit on benefits or you are denied insurance because your medical records show a condition you don't have."
If you are a victim of medical identity theft, Victory State Bank and the FTC advise the following:
File a complaint with the FTC online at https://www.ftccomplaintassistant.gov or by phone at 1-877-ID-THEFT (438-4338); TTY: 1-866-653-4261.
File a report with your local police, and send copies of the report to your health plan's fraud department, your health care provider(s), and the three nationwide credit reporting companies.
Exercise your right under HIPAA to correct errors in your medical and billing records. Write to your health plan or provider detailing the information that seems inaccurate.
Contact the toll-free fraud number of any one of the three nationwide credit reporting companies to place a fraud alert on your credit report.
"And don't forget to notify your bank," Branca added.
Credit Reporting Companies
TransUnion: 1-800-680-7289; Fraud Victim Assistance Division, P.O. Box 6790, Fullerton, CA 92834-6790
Equifax: 1-800-525-6285; P.O. Box 740241, Atlanta, GA 30374-0241
Experian: 1-888-EXPERIAN (397-3742); P.O. Box 9554, Allen, TX 75013
About Victory State Bank
VSB Bancorp Inc. is the one-bank holding company for Victory State Bank. Victory State Bank, a Staten Island-based commercial bank, commenced operations on Nov. 17, 1997. The Bank's initial capitalization of $7.0 million was primarily raised within the Staten Island community. The Bancorp's total equity has increased to $26 million, primarily through the retention of earnings. Victory State operates five full-service locations on Staten Island: The main office in Great Kills, and branches in the communities of West Brighton, St. George, Dongan Hills and Rosebank.
MEDIA CONTACT: BARTON HOROWITZ
RELEVANT PUBLIC RELATIONS LLC
HEADQUARTERS: 718 682 1509
MOBILE: 917-715-8761
E-MAIL: Bhorowitz(at)RelevantPR.com
###