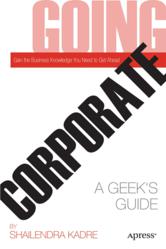 There are important pieces of the business puzzle that all technology professionals must embrace and understand for a successful IT career.

New York, NY (PRWEB) June 10, 2011
Technical professionals typically dive deeply into small segments of technology—like writing lines of code or designing a circuit. As a result, techies often have trouble seeing the bigger picture and how their work supports an organization's goals. But ignoring or dismissing the business or operational aspects of projects and products can lead to career stagnation. In fact, understanding the larger business environment is essential for those who want a higher management position, a competitive consulting gig, or the capability to one day start a business.
Shailendra Kadre, author of Apress Business's latest book "Going Corporate: A Geek's Guide" provides this advice, "Ultimately, technology professionals have to appreciate and understand business to succeed. By becoming aware of what's important to your superiors, and what's current in the industry, you will do your job better. And it will prepare you for bigger, more lucrative jobs that can amplify the positive impact you have in the companies you work for."
Kadre notes that business topics—business transformation, enterprise application integration, legacy transformation, and strategic management—are required for any workers in the technology trenches wondering how to improve their career potential, technology professionals aiming for management positions, recently promoted managers with gaps in their business education, fresh graduates starting in the corporate world, and students in technical or business programs. There are important pieces of the business puzzle that all technology professionals must embrace and understand for a successful IT career.
About "Going Corporate: A Geek's Guide"
"Going Corporate: A Geek's Guide" provides technology professionals—including programmers, engineers, designers, and analysts—the information they need to make the transition from entry-level techie to project manager, mid-level manager, consultant—or even CIO, CTO, or CEO. "Going Corporate: A Geek's Guide" shows technology workers how to gain the understanding and skills they need to become effective, promotable managers or sought-after consultants or freelancers. This book is designed to help readers gain management skills, insight, and practical understanding of essential business and operational topics. Readers will learn to develop project and program management skills, deliver service efficiently and improve processes, implement governance, analyze financial statements, and much more. After reading this book, technology professionals will understand such things as enterprise architecture, IT operations management, and strategic and financial management—and how each relates to the others. Detailed case studies help cement the understanding of how an IT organization and its workers succeed in the 21st century.
About the Author
Shailendra Kadre has more than 17 years of industry experience, including 15 years in the Information Technology domain with services and products companies such as Satyam Computer Services Ltd., TCS (Tata Consultancy Services), and Oracle Financial Services Software. He has handled large customer accounts with multi-location project teams and has handled many large IT outsourcing deals as a bid manager. He specializes in IT delivery and operations management. Kadre has also worked extensively in the manufacturing and capital markets sectors. On the technology side, he has hands-on experience designing and structuring complex web applications. Kadre holds a master's degree in mechanical engineering from the Indian Institute of Technology (IIT) in Delhi. He is certified as a PMP and as a lead auditor for information security. He has published in the fields of management and IT consulting, mainly focusing on improving operational efficiencies and business transformation. Kadre is active as a writer and reviewer in various professional forums and trade journals.
"Going Corporate: A Geek's Guide"
By Shailendra Kadre
ISBN13: 978-1-4302-3701-3
360 Pages
Published June 10, 2011
Print Book Price: $29.99
About Apress Business
Apress Business books cover a wide variety of technical areas in the business arena. Topics of Apress Business books range across IT, management, finance, regulation, trends, investing, current events, legal issues, metrics, technical analysis, and project management. Apress Business covers three distinct subseries: "At Work," "firstPress," and "CA Press." The At Work series offers a collection of enlightening interviews with prominent and influential leaders in specific and somewhat enigmatic job categories. Each At Work book delivers an engaging and revealing peek inside the inner workings of the jobs of leaders in areas like venture capital, gaming, computer coding, or advertising. The firstPress series—short and hard-hitting books on a diverse range of "must know" topics—covers such things as health care reform, the deficit, and investing in emerging markets. firstPress books offer timely, brief, unbiased looks at today's complex business topics. The CA Press series is a strategic collaboration between the Fortune 500 company CA Technologies, Inc., and Apress to bring business and IT thought leadership books to market. CA Press provides books on numerous areas of business and technical topics for IT professionals, managers, and students. For more information about Apress Business, visit http://www.apress.com/business.
###